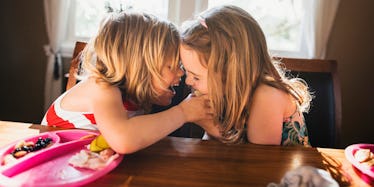 Idea Vs. Reality: How To Tell If You're Really In Love
We have all been in love with what could be instead of what exists right in front of us. It's a hard concept for some of us to realize and sometimes, it is even tougher to let go of that concept because it becomes so real in our lives.
In my last relationship, I never realized the type of love my boyfriend and I really had. I thought we had the passion — that connection everyone dreams to have —, but looking back, I realize that false image was holding me onto a love that was not fulfilling my needs. I was in love with what could be instead of what really was.
I loved the idea of what we could be because my boyfriend sometimes revealed small glimpses of an amazing potential relationship, even though about 80 percent of the time, it was not a positive experience. I fell in love with the idea of those glimpses. I imagined that if he just did this or if he just changed that, everything would align and be perfect.
Two years later, I found myself still in love with those ideas, with more and more tears because it never became what could have been.
I told my friends about the simple things he did to show he cared. Since they were rare, when they happened, I wanted to prove that I had a great guy, regardless of what they thought. In reality, those little things should have happened regardless; they should not have been rare.
In a way, I was trying to prove that my friends were wrong about my boyfriend and simultaneously convince myself that I was right about him, too. I was trying to justify staying with a guy I loved, despite the fact that he only showed that he loved me part-time.
If you ever find yourself justifying your man's actions or not wanting to share the truth about things he has said or done, chances are, you are in love with his could-bes. If you cling to every good thing he does until he does something else nice or brag-worthy, chances are you are in love with the "could be."
I think that at least at one point in our lives, we all find a connection with someone who makes us feel something special, so we stay. But, we stay for all the wrong reasons and sometimes, it is only because of what could have been.
When we love someone, it is so easy for us to ignore what is missing and hold on to what is there or what could be there. It is our nature to want to see the best in people, and being in a relationship is no different. In fact, relationships may make that natural response even worse.
The love of what could have been is something that blindsides so many of us. You will not understand this concept until you finally realize one day that maybe, what you have been dealing with is just not for you anymore.
This is hard to realize because in the presence of intermittent "good stuff," it can feel like a premature failure. You truly believe that if you hang on a little longer, all those could-bes will become real life. Then, another year passes by without any change. When do you decide to stop? When does reality finally outweigh the could-bes?
I, for one, took a long time to realize the difference. However, when I overcame my fear, I was able to leave a situation that never satisfied my needs or what I really from a relationship.