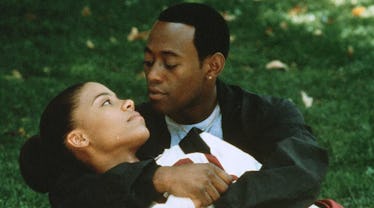 I Watched 9 Classic Black Rom-Coms To See If They're Still Relevant Today
"Love & Basketball" / Hulu
As a Black millennial, a journalist who writes about dating and relationships, and a cinephile, I recently realized I had failed. For most of my life, I'd heard film critics, Black Gen Xers, and fellow young millennials on Twitter and Instagram rave about the classic Black rom-coms of the '90s and 2000s. But I'd never actually taken the time to watch them.
If you're unfamiliar with the genre, I'm talking about the films that center Black love stories. These campy, sweet watches — like Deliver Us From Eva, The Bodyguard, and Poetic Justice — have been heralded by Black media institutions like Essence and Oprah Magazine as the best Black romantic comedies of all time. They helped define how young Black audiences (from Gen Xers to millennials, and even Gen Zers) think about dating, love, marriage, autonomy, and sexuality. They also helped launch the careers of Black icons like Nia Long, Morris Chestnut, Queen Latifah, Taye Diggs, Angela Bassett, Regina Hall, and Gabrielle Union. And they cemented the legacies of the greats, like Whitney Houston, Tupac Shakur, and Janet Jackson.
Considering the impact these films made on Black culture and their influence on Black love, I watched nine of the most popular to see if they stood the test of time. Specifically, I wanted to know how they reinforced or challenged negative stereotypes about Black folks, and I was curious about whether or not their messaging surrounding Black love was still relevant today. Here's what I found.