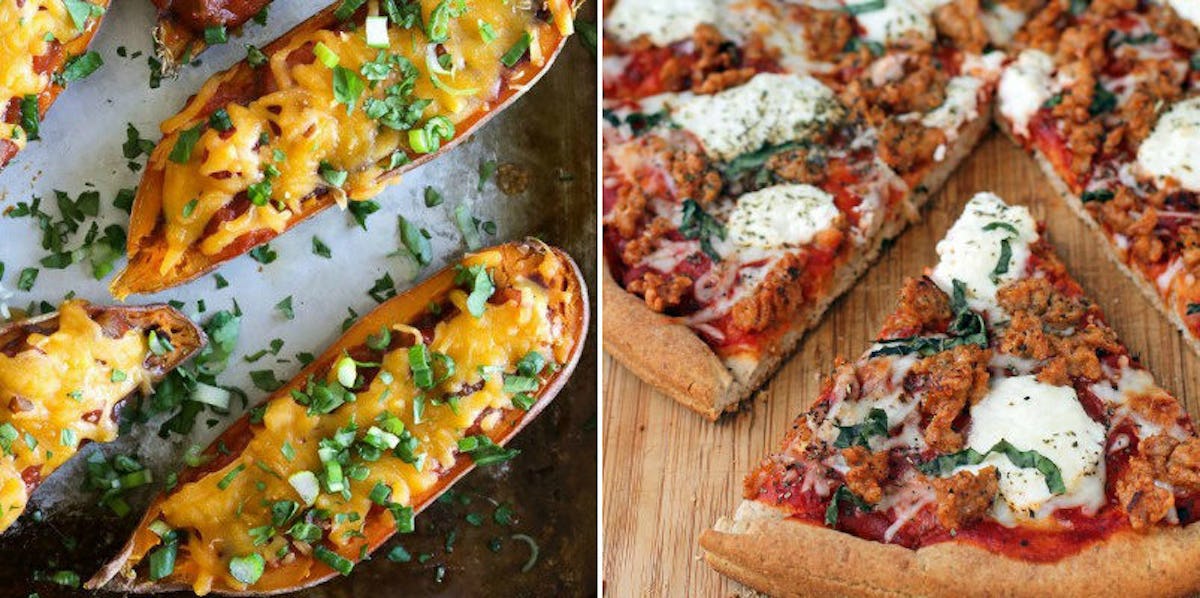 7 Easy, Delicious And Healthy Meals Dudes Can Cook For Their Girlfriends
If you're anything like me, you typically come home at the end of the day ravenous as a vulture, ready to move in on anything that can be considered edible.
I'll be the first one to admit it: I'm spoiled.
After graduating college, I moved back in with my parents, where I always had a stocked fridge and pantry at my disposal. My mom, well, let's just say she knows her way around the kitchen, so it was something gourmet and delicious for dinner every night of the week.
Now, I live with my girlfriend, who's a pretty damn good cook in her own right and has something prepared for dinner almost every night of the week.
But, enough is enough. I've decided to go rogue and branch out on my own. For most of my life, I've watched others cook -- now it's my time to shine.
So, I did the research and found a few blogs to help me create some easy and delicious meals. Papa's coming in hot.
Follow me, dudes, and check out these seven easy, delicious and healthy meals you can make for yourself, your roommates and your significant other.
Baked Sweet Potato Skins
Ingredients: 6 small sweet potatoes (about 2 ¼ pounds); olive oil cooking spray; 1/2 tablespoon taco seasoning; ¼ teaspoon kosher salt; freshly ground black pepper (to taste); 1 cup refried black beans; 3/4 cup salsa; 3/4 cup shredded reduced-fat cheddar;  2 thinly sliced scallions / 1 tablespoon chopped cilantro Directions: Preheat oven to 400°F. Adjust oven rack to center of oven. Place whole sweet potatoes on a sheet pan covered in foil or parchment, poke each a few times with a fork. Bake until fork tender, 40-45 minutes. Allow to cool for 10 minutes. Switch oven from bake to broil. Meanwhile, in a small bowl combine black beans with taco seasoning. Cut sweet potatoes in half and carefully scoop out flesh with a metal spoon, leaving about ¼-inch of flesh intact. Place potatoes (skin side up) back on the sheet pan, spray with olive oil, top with a pinch of salt and pepper and broil for  2-3 minutes. Remove skins from oven, turn over and fill each with black beans, 1 tablespoon salsa and 1 tablespoon cheese then return to oven to broil 2 minutes more. Top with each skin with scallions and cilantro and eat right away. Serving size: 2 skins
Taco Stuffed Zucchini Boats
Ingredients: 4 medium (32 ounces) zucchinis cut in half lengthwise; 1/2 cup mild salsa; 1 lb 93 percent lean ground turkey; 1 teaspoon garlic powder; 1 teaspoon cumin; 1 teaspoon kosher salt (or to taste); 1 teaspoon chili powder; 1 teaspoon paprika; 1/2 teaspoon oregano; 1/2 small minced onion; 2 tablespoon minced bell pepper; 4 oz canned tomato sauce; 1/4 cup water; 1/2 cup reduced-fat Mexican blend shredded cheese; 1/4 cup chopped scallions or cilantro for topping Directions: Bring a large pot of salted water to boil. Preheat oven to 400°F. Place 1/4 cup of salsa in the bottom of a large baking dish. Using a small spoon or melon baller, hollow out the center of the zucchini halves, leaving 1/4-inch thick shell on each half. Chop the scooped out flesh of the zucchini into small pieces and set aside 3/4 of a cup to add to the taco filling, (squeeze excess water with a paper towel) discard the rest or save to use in another recipe. Drop zucchini halves in boiling water and cook 1 minute. Remove from water. Brown turkey in a large skillet, breaking up while it cooks. When no longer pink add the spices and mix well. Add the onion, bell pepper, reserved zucchini, tomato sauce and water. Stir and cover, simmer on low for about 20 minutes. Using a spoon, fill the hollowed zucchini boats dividing the taco meat equally, about 1/3 cup in each, pressing firmly. Top each with 1 tablespoon of shredded cheese. Cover with foil and bake 35 minutes until cheese is melted and zucchini is cooked through. Top with scallions and serve with salsa on the side.
Cheesy Chipotle Quinoa
Ingredients: 1.5 teaspoon olive oil; 1 minced jalapeño; 2 cloves minced garlic; 1 1/4 cup vegetable broth; 1 (15 oz) can fire-roasted tomatoes; 1 cup quinoa; 1/2 teaspoon chipotle powder (or 1 tbs chipotle in adobo); 1/2 teaspoon paprika; 1/2 teaspoon onion powder; 1/2 teaspoon ground cumin; 1 (15 oz) can black beans; 1 cup frozen sweet corn; 1 large avocado, diced; 1/4 cup fresh cilantro, chopped; 1/3 cup shredded Mexi-blend cheese Directions: In a large, deep skillet, heat the oil on medium high. Add the jalapeño and cook for 1 minute. Add the garlic and stir until fragrant (30 seconds). Next, add the broth, tomatoes, quinoa, chipotle, paprika, onion powder, cumin and salt and pepper (to taste). Stir all together, cover and bring to simmer. Lower heat and allow to simmer for 15 minutes, occasionally stirring. After 15 minutes, stir in the beans and corn. Once the quinoa is cooked, stir in the avocado and cilantro... top with the cheese and replace lid again until the cheese has melted.
Yields 4 servings.
Turkey Zoodles Parm
Ingredients: Olive oil; 1 medium chopped onion; 2 large cloves grated garlic; 1 lb ground turkey; 24 oz jar (or can) crushed tomatoes; 2 tbs coconut sugar; 2 zucchinis, stemmed and spiralized; 2 tbs fresh chopped basil; 1/2 cup shredded mozzarella cheese Directions: In a large skillet, heat 1 tbs olive oil on medium high. Add the onion and saute until translucent -- about 2 minutes. Add ONE of the grated garlic cloves and stir until fragrant. Add the turkey and with a wooden spoon, break up the meat until no longer pink -- about 5-7 minutes. Cover that pan to keep warm. In another large, oven-safe skillet, heat 1 teaspoon olive oil on medium heat. Add the remaining grated garlic clove. Stir for about a minute. Add the crushed tomatoes, sugar, salt and pepper to taste. Bring to a boil and then lower heat to a simmer, stirring occasionally, until thickens -- about 10-15 minutes. Next, add the zoodles and basil, and cook for a few minutes -- do not over cook. Top them with the turkey mixture and then with the shredded mozzarella. Place in the oven on broil for a minute or until cheese melts. Serve warm. Yields 4 servings.
Sausage and Ricotta Pizza
Ingredients: 4 oz uncooked hot Italian poultry sausage (chicken or turkey is fine); 1 Boboli 12" Whole Wheat Pizza Crust;  ½ cup pizza sauce; 1/8 teaspoon crushed red pepper flakes; 1/3 cup shredded 2 percent mozzarella cheese; 1/3 cup part-skim ricotta cheese; 1 tablespoon chopped fresh basil; ½ teaspoon Italian seasoning Directions: Preheat the oven to 450°F. Place sausage in a small skillet and bring it over medium heat. Break up the meat with a wooden spoon and cook until sausage is browned. Spread pizza sauce evenly across the top surface of the pizza crust, leaving at least a ½ inch edge around the outside. Sprinkle the crushed red pepper flakes over the pizza sauce, followed by the shredded mozzarella. Use a spoon to drop dollops of the ricotta around the surface of the pizza. Add the chopped basil and the cooked sausage crumbles and finish the pizza by sprinkling the Italian seasoning over top. Place pizza on a foil-covered baking sheet, a preheated pizza stone (my preference) or straight onto the oven rack (depending on how you like your crust) and bake for 8-10 minutes. Yields 6 slices.
Spinach and Artichoke Lasagna Roll-Ups
Ingredients: 8 uncooked lasagna noodles; 8 oz brick of 1/3 less-fat softened cream cheese;  ½ cup fat-free sour cream; 1 cup 2 percent shredded mozzarella cheese; 1 tablespoon grated Parmesan cheese; 1 teaspoon minced garlic; 1/8 teaspoon black pepper; 10 oz package frozen chopped spinach (thawed and squeezed dry); ½ cup drained canned artichoke hearts packed in brine or water, chopped (around half a 14 oz can); 15 oz jar light alfredo sauce (I recommend Classico light alfredo) Directions: Pre-heat the oven to 350°F. Lightly mist a 9×13 baking dish with cooking spray and set aside. Boil and salt a large pot of water and cook lasagna noodles according to package instructions. Drain, rinse with cold water to cool and lay noodles out to dry. In a mixing bowl, combine the softened cream cheese, sour cream, ½ cup of the shredded mozzarella, the parmesan, garlic, black pepper, spinach and chopped artichokes and stir together until well mixed. When the noodles are dry, spoon a heaping 1/3 cup of the mixture onto each lasagna noodle and spread across the surface. Starting with one end, roll the noodle over the filling until it becomes a complete roll. Repeat with all noodles. Spoon 1/3 cup of the alfredo sauce into the prepared baking dish and spread across the bottom. Place the lasagna rolls seam down in the dish and spoon or pour the remaining sauce over top. Sprinkle the remaining ½ cup of shredded Mozzarella over the tops of the rolls. Cover the dish with aluminum foil and bake for 40 minutes. Allow to cool for 10 minutes before serving. Yields 8 servings.
Teriyaki Chicken and Rice Casserole
Ingredients: ¾ cup low-sodium soy sauce; ½ cup water; 1/3 cup packed brown sugar; 1 tablespoon honey; ¾ teaspoon ground ginger; 1 teaspoon olive oil; ½ teaspoon minced garlic; 2 tablespoons corn starch; 2 tablespoons water; 1 ½ lbs boneless skinless chicken breasts; 32 oz frozen mixed vegetables; 1 cup drained canned pineapple tidbits or chunks (packed in juice or with no added sugar) / 3 cups cooked brown rice Directions: Pre-heat the oven to 350°F. Combine the soy sauce, the ½ cup water, the brown sugar, honey, ginger, olive oil and garlic in a small saucepan and cover. Bring to a boil over medium heat. Remove lid and cook for one minute once boiling. While waiting for the sauce to come to a boil, stir together the corn starch and 2 tablespoons of water in a separate dish until smooth to form a slurry. Once the sauce is boiling, add the slurry to the saucepan and stir in to combine. Cook for another minute until the sauce starts to thicken and then remove from heat. Lay the raw chicken breasts flat in a 9×13 casserole dish and pour about a cup of the sauce over top of the chicken. Place the chicken in the oven and cook for 30-35 minutes until breasts are cooked through.* Remove the dish from the oven and shred the chicken right in the dish using two forks. *While the chicken is cooking, steam or cook your frozen vegetables according to package directions. When the chicken is shredded and the vegetables are cooked, add the vegetables, pineapple and rice to the casserole dish with the chicken. Add most of the remaining sauce, reserving a bit to drizzle over the top when finished. Stir everything together in the casserole dish until well combined. Return the dish to the oven and cook for 15 minutes. Remove from the oven, drizzle with the remaining sauce and serve. Yields 8 servings.
Citations: LIGHTENED UP COMFORT FOOD (Emily Bites), easy recipes for healthy people (Hungry Happens), DELICIOUS HEALTHY RECIPES FROM MY FAMILY TO YOURS (Skinny Taste)