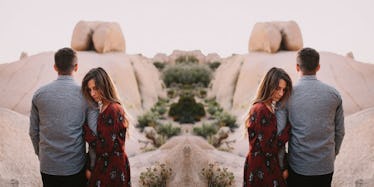 Guys And Girls Can Be Just Friends, But You Will Fall For Him
Hanging out with your best guy friend may give you some relief from the typical girl drama you learn about at Sunday brunch with your roommates from college.
In our society — where Tinder messages have replaced hand-written birthday cards and 3 a.m. beers have replaced steak dinners — the friend zone has become more murky than ever.
With casual hook-ups on the rise and the help of on-demand online dating, the question, "Can guys and girls be just friends?" is frequently asked.
Dave Matthews answers this question on point: "A guy and a girl can be just friends, but at one point or another, they will fall for each other.
Maybe temporarily, maybe at the wrong time, maybe too late, or maybe forever."
The short answer is yes, you can be just friends, but don't expect smooth sailing.
We don't get to choose our family, but we do get to choose our friends. Often, our friends echo us in terms of personality, morals, values, socioeconomics and goals. Our friends should complement us.
No matter the gender, we find our friends attractive. At first, it isn't physical attraction (well, most of the time). Rather, we become attracted to how they make us feel, how comfortable we are talking to them and how fun they are to go out with on a Saturday night.
What we look for in our guy friends is very much the same in what we look for in a significant other: chemistry. Why would we want to hang out with a boring bro who plays video games all day?
We want a guy friend who makes us laugh, goes out to dinner with us on a Friday night and watches the Rangers with us.
Whether it's his dark brown eyes, height, charming personality or love for the Yankees, we are in some capacity attracted to him.
If you deny this, ask yourself, "Why do I hang out with him?"
It's inevitable: You both form feelings at one point of the relationship. Time wise, it can come in a variety of combinations.
You may fall first; he may fall first; perhaps, you will fall for each other at the same time. Timing is key here.
You can't control when you will fall for each other, but the way you handle falling for him will definitely shape your relationship.
Do you ever notice how you feel when he brings a new girl into the picture? How about when he posts a picture with his new girlfriend on his arm at the same restaurant he took you for your 23rd birthday?
Whether you like it or not, you feel threatened, even if you can honestly say you don't want to sleep with him.
If this feeling of threat hasn't happened yet, trust me, it will. Often, without consciously recognizing it, we become attached.
He is your best friend, after all, and all of a sudden, you're not a priority in his social life. You're his friend first, not girlfriend, and you don't always come first anymore.
Once you see your best guy friend pulling away because there is someone else in the picture who can jeopardize your friendship, the platonic feelings get confused. It is often in situations like these where our true feelings are revealed.
Hooking up with guy friends is not unheard of, and some of us are guiltier than others.
Obviously, hooking up with a guy friend can and will, without a doubt, complicate your relationship if you want to continue being friends.
It can put your relationship in jeopardy because you're no longer discussing sports; you're trying to discuss where you stand.
Jealousy, love and lust don't always last. Therefore, it is possible to be friends, even after you hook up.
However, it does require a lot of work. Honesty is important and being upfront about each other's feelings is imperative.
If you both enjoy flirty banter, be upfront that it's just that and nothing more. Let him know you don't want anything serious.
If you feel yourself falling for him, but feel a $200 romantic meal in Soho is not acceptable for just friends, just stick with the coffee shop on a Sunday afternoon. If he truly respects you, he will respect your feelings, no matter what.
However, falling in love with your best guy friend can possibly "last forever."
You have already set up a solid foundation of trust and love, and you know each other on a fundamentally deep level.
Relationships don't always start out as "love at first sight." Sometimes, it is through deep, meaningful relationships we start to fall in love.
As his friend, you see his flaws; you see who he is when he's sad and when he's happy.
Unlike guys you've formally dated, falling in love with your best guy friend allows you to see his vulnerable side immediately.
He's not putting on a show for you. Instead, he is showing you his true side while letting you open the door.
If you do happen to fall in love with each other at the same time, go for it. There isn't a guy who knows you better than he does.
Cross the bridge of dealing with feelings and emotions carefully because at one point or another, you will have to sit down and have "the conversation."
Boys and girls can just hang out; they can sleep in the same bed without getting intimate, and they can be platonic, but not 100 percent of the time.
Be aware that whenever you have a guy friend, there will be questions, doubts and moments of weakness.
You can be just his friend, but remember, you will fall for him at some point. It's up to you whether or not you act on the feelings.