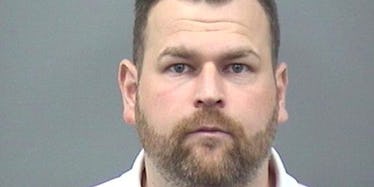 Guy Cons Dating Site Matches Into Buying Him $122K Worth Of Cars And Vacays
Dorset Police
One user on the dating site Plenty of Fish managed to con three women out of $122,000 (or roughly the cost it takes to go out on the town looking for some love in the bar scene IRL).
Zac Langley has pretended to be an MI5 spy, a prosperous banker, a millionaire wine merchant, a radar maker, a journalist and even a British Lord. Whoa, someone give this guy an Oscar already.
Just kidding. He's currently facing five years behind bars, after leading an adult life full of false identities that seem like they belong on Leonardo DiCaprio's IMDB page.
Langley had just gotten out of jail in December after serving time for another con only to hop onto Plenty of Fish to try and swipe right on some newer victims. This single was ready to mingle through some bank accounts.
His choice of characters for this go-around? A Royal Marine, a Ministry of Defense intelligence officer, a property developer and a shipping magnate.
Uh, we all know that the perfect con involves pretending to be an architect, right? Exhibit one: Art Vanderlay.
Victims Claire Cooper and her mother Muriel purchased two luxury Range Rovers worth over $150,000 for Langley and paid $25,000 in fake medical fees.
If someone wants you to buy them a Range Rover, get suspicious.
In case you weren't already disgusted, those "medical fees" included cancer treatments totaling over $16,000.
Another victim Danielle Allen was duped into getting Langley a new $38,500 Mercedes and a $2,500 weekend getaway.
But he wasn't just fooling the ladies.
Langley forged emails to hoodwink real estate agents into thinking he had $62.5 million worth in property so he could purchase two homes, each worth over $900,000. Check out the talented Mr. Ripley over here!
Langley, whose real name is Andrew Penfold (WHERE DO THE DECEPTIONS END?), pleaded guilty five counts of fraud and eight court order breaches that prohibited him from ever offending again.
Let's hope he refrains from this egregious kind of fraud in the future.
Citations: Conman, 41, who stole £105,000 from three woman he met through Plenty of Fish after posing as a banker, an MI5 spy, and a Lord is jailed for five years (DailyMail.com)