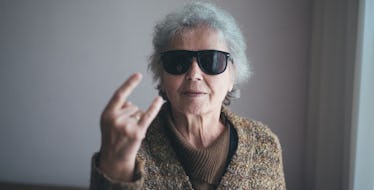 You're In Luck, Guys: Women Prefer Men With Beer Bellies To Those With Abs
Stocksy
fGuys, listen up.
Apparently, females like you better when there's more of you to love. So, grab another beer and celebrate that gut you've been working on since high school.
According to a recent study commissioned to mark the DVD release of "Bad Neighbors," starring Zac Efron and Seth Rogen, three in four British women prefer men with a bit of a belly over one rocking washboard abs when it comes to relationships.
But in terms of eye candy, Zac > Seth any day.
The reason for our preference for chubby dudes is kind of sad, though. Sex therapist Tracey Cox says,
74 percent of the women in the survey said they'd feel self conscious taking their clothes off in front of a perfectly toned man. A he-man's discipline highlights our lack of it, making us feel even more acutely self-conscious of our own body flaws than usual.
The full results of the study are here, but the basic verdict is women prefer relationships with a man who makes them feel confident, not threatened. A man with a bit of a gut is likely not as concerned with appearances as a gym rat may be. Ergo, we feel less judged.
Whilst there's nothing wrong with packing on a little extra weight, we should keep in mind that being overweight is unhealthy.
Determining our love lives based on someone else's eating and exercising habits is probably not the best method in the long term, either. Relationships should be based on mutual attraction, not insecurity.
Ladies, whomever you're attracted to — chubby or thin, buff or fragile — don't let your own insecurities cloud your love life. We've all got flaws.
But, when you find the right person, it won't matter.
H/T: Daily Mail, Photo Courtesy: Fox/Family Guy