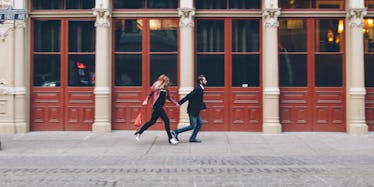 What To Do If You're Single On Valentines Day
Stocksy
Oh, Valentine's Day--the time where we deem it fitting to attempt to quantify our love for another in one materialistic, lavish display of affection. It is truly a beautiful time of the year. As many would agree, love is certainly in the air.
Of course, we have the arrival of the new Channing Tatum film for the lonesome females out there and flowers are now commanding up to triple their normal market value. This is the only time of the year when this is acceptable. Unfortunately, not all of us will have someone to call our valentine, surely leaving these individuals with the question, "What is there to do on Valentine's Day if you're single?" Elite Daily has the answer.
While it's fine to enjoy your own company on this day, we know you'd rather not have a dull evening. You wanna score on Valentine's Day just like the rest of the lovebirds. To facilitate this process, we present to you our list of Valentine's Day activities for the single bachelor.
First and foremost, we shall quickly delve into the specific girls you should be seeking out for these endeavors. Scout a girl who's already taken. If she's present at any of the events we are about to mention, these two are in a tremendous fight. It will simply take the utterance of the time-tested phrase "you deserve better" and you'll have her undergarments disintegrating right before you.
We also have the attention seeking, extremely sad single girl feeling dejected because she hasn't been asked out to dinner on this evening. You know, the one that would be part of the target audience for Channing Tatum's recent film. She's likely feeling extremely insecure, as she hasn't even gotten a simple gift like flowers, so you should be able to accomplish this goal rather easily.
Finally, there is the girl who has recently suffered a brutal break up. This girl is arguably the easiest target due to her post-breakup depression being amplified by not having a valentine. Recycle that invaluable line, "you deserve better", and you'll be in for the ride of your life.
Attend an Anti Valentines Day Party
There has to be someone in your circle that has either gone through a bad breakup or has always been the playboy of the pack. Hopefully you're dealing with the latter (we're not trying to commiserate here) and he's hosting an anti Valentine's Day party at his place. This party might (read: will) be swarmed with a segment of unscrupulous females who can't entertain a man's interest enough for an invitation to dinner. Please avoid them. Expect a lot of sloppy drunks drinking their misery away, meaning an easy conquest for you. Be prepared for any emotional baggage that you're likely to encounter from a girl at this party, though.
Speed Dating
Because it is in the spirit of the holiday to be in love, perhaps look into speed dating events to find a new lover. We would never suggest such a pedestrian act in any other scenario, but on such a grand holiday we can certainly permit you to make this move with impunity. You literally never know whom you might meet at these speed-dating events. If that's for better or worse, you'll just have to find out on the spot. Who knows, you might discover a new lover to heat things up in the spring.
Nightclub or Bar
These places will be swarming with drunken women drinking their sorrows away. Any girl that actually had a valentine certainly wouldn't be out clubbing on this occasion. Thus, the ones who remain are either upset about not having a valentine, or they hate the holiday—a win-win situation for you, my fellow Elite man. Your job will be simplified by the fact that you won't have to worry about scouting out who would be down for a night of passion—they all will be. Every girl out on this evening will most likely be yearning for attention and ready to leave with someone on the spot.
Despite what you might be thinking, being single on Valentines day is a blessing. It's the only night besides New Year's where you're almost guaranteed to score a dime. However, to put things in perspective for those who feel lonesome, you're likely far too young to be engaging in any long-term relationships. Neither you nor your potential partner would be positive what the future holds, and while you figure that out, it's best to remain on your own.
Elite.