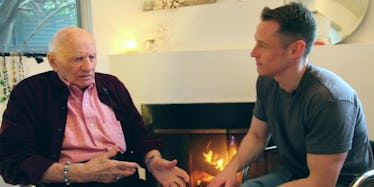 Man Comes Out As Gay At 95, Wants Fewer People To 'Live In The Shadows'
YouTube
In my experience, once you start dating members of the same gender, a couple of the same questions pop up on your first date.
Are you out? How did your family take it? How old were you when you came out?
While the answers may range, I'm always amazed by the age people were when they finally accepted themselves and let others know too.
I'm shocked when some people tell me they were still in high school, or even middle school, when they told others they were gay. It's a statement to how far we've come.
Proving that point further is Roman, who came out when he was 95 years old.
With Davey Wavey, a popular Youtuber, the now 96-year-old Roman opened up about his coming out.
For years, he lived in the closet. He knew he was gay when he was only 5 years old, but after being married to his wife for 67 years, having two children and give grandchildren, he wanted to share the truth.
Roman, who is currently the subject of his grandson Brandon Gross' story called "On My Way Out," said,
Certain things I want the world to know. I was born and was all my life gay.
Wavey told The Huffington Post,
I think there's a lot to take from this video. There's a sense of history in understanding how far we've come, and the struggles that this man must have experienced. Whether you are queer or not, listening to Roman stirs something in all of us. And at a time when the world often feels divisive and divided, it's good to be reminded of our common humanity.
Possibly the sweetest moment in the video is when Roman admits to what he hopes to have after coming out after so long,
I want to go to sleep [and] have somebody close to me. Not for any other reason but to be sure that someone cares.
It's what we all want.
Citations: 95-year-old comes out as gay and melts all our hearts (Mashable)