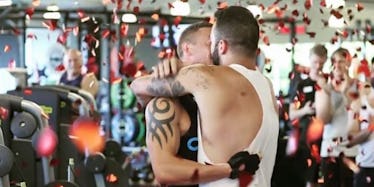 This Flash Mob Gym Proposal Is The Best Thing You'll See All Year
YouTube
Even during my roughest days of singlehood, marriage proposal videos still managed to take the cake as some of the most-watched videos I've watched online.
Maybe it's the feeling of living vicariously through strangers, but watching people profess their love out in the open for the world to see is a surefire way to tug at my heartstrings.
I consider myself to be a creative person, especially when it comes to doing something for someone else's benefit, but some of these engagement concepts are epically over-the-top in the best way possible.
In the case of sexy and swole couple Nico Martina and Mikey Sinclair, these two were able to find love in the most hopeless place of all: The gym.
Nico spoke to HowHeAsked.com and said that although a romantic getaway to Italy was ideal, a dance-inspired proposal at their branch of Fitness First in Sydney, Australia where they met made perfect sense.
He told How He Asked, "When I met Mike for our first date, it was simply amazing and I felt an instant connection. Our first date felt like we were already in a relationship."
Ugh. Why are they perfect?
Documented by Kate Elizabeth Proposal Planning, the four-minute video features the pair working out nonchalantly alongside other gym-goers, before hired dancers (disguised as fellow fitness fanatics) start busting a move to some classic Yonce.
Try to resist cracking an ear-to-ear grin as Nico joins in during the second song, only to break away and plop down on one knee in front of Mikey.
Spoiler alert: He says yes!
Nico told How He Asked,
This proposal was also a way to send a message that 'love is love' no matter what your sexuality is. That's why I chose two Beyoncé songs 'Love on Top' and 'End of Time' to dance to. I also wanted one day to be able to re live that moment with Mike so I wanted to create something memorable. Perhaps one day when we are old and we can share it with our children.
I really hope my future husband catches this video, and in turn does something extremely similar for me. The only thing is, let's swap out the gym for, like, a Wendy's or something.
The only thing you can find me lifting are fries to my mouth.
Citations: NICO AND MIKE (How He Asked), This flash mob gym proposal is perfect (LGBTQ Nation)