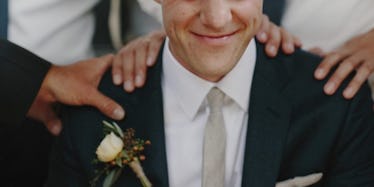 Guys Who Don't Have Many Friends Share How They Got Enough Groomsmen For Their Wedding
You never truly know how many true friends you have until it's wedding time, and your significant other starts asking how many groomsmen you think you'll have.
While your fiancée may have as many bridal party candidates as the "Kardashian Klan," you may be secretly sweating over not having as many guy friends to ask to stand by your side.
So what do you do when your other half wants to know your groomsmen lineup, but you don't want to admit that it's looking pretty skimpy?
Well, you could pull a "Wedding Ringer" and hire one, or you can do what these five guys did when they needed groomsmen but didn't have enough friends.
1. I asked my mom for help.
I married a girl with a ton of friends, but I only have like three close guy friends. The rest are people I hang with, but there's no real depth. She had seven bridesmaids and said I needed at least four groomsmen. I didn't know what to do, so I talked to my mom about it, and she asked a few of her friends to see if their sons would do it. One agreed.
— Sam, 29
2. I begged a guy at work.
We made a decision to have two friends each stand by our side on our wedding day. I asked literally every friend I had and only one person was available. Since we planned our wedding in 30 days and gave people short notice, everyone else was busy that day or just didn't want to do it. But, there was one guy I worked with who I was semi-friends with. I asked him, and he said no. I had to beg him by saying that I'd secretly take on some of his work. It was embarrassing, but I really needed a second person.
— Roy F., 41
3. I told my fiancée that I'm a loser.
I was nervous to tell my fiancée that I did not have anyone I'd ask to be groomsmen. My guy friends are too rowdy and disrespectful, and I didn't want them ruining my wedding. I told her that I'm a loser and don't have anyone to be a best man or groomsmen. She already had four bridesmaids lined up. We decided to skip out on having a wedding party and just have our friends — or really her friends — attend as guests.
— Jeffrey T., 37
 4. I bribed some guys.
I'm not a freak, I just don't have a lot of close friends. I've been building my own business from home for three years, so I don't interact with a lot of people. When I was engaged and needed groomsmen, I had to ask my cousin if he'd be one. He's pretty cool, so I asked if he could round up a few friends to be my groomsmen too. He said they had a list of demands, so I bribed them by providing them with a lot of booze, a rental tux and free hotel rooms for the weekend.
— Eric S., 29
5. I asked a random.
My fiancée was putting pressure on me to have the same amount of groomsmen as she had bridesmaids. She had five and I had four. I literally didn't have anyone else to ask. I was out at a bar one night with a friend, and we got wasted. We started hanging with these two other guys who were really cool. I was so drunk I asked one of them to be a groomsman and asked the other guy to show up at our wedding as a guest. They both agreed. I got their info and sent them the details. My wife didn't care that they were randoms.
— Joshua H., 35