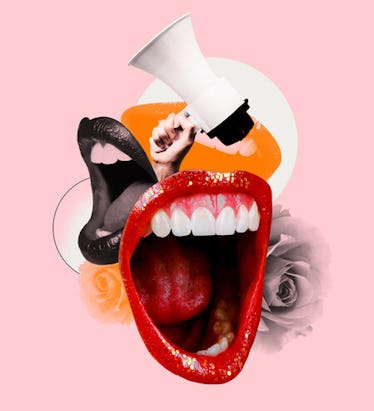 Do You Feel Awkward Making Noise In Bed? Here's How To Let Loose
I'll have what she's having.
tryam/Shutterstock
If you cook dinner for someone and they're expressionless while they eat, your brain is likely going to spiral. Did I skimp on the salt? Is it burnt? Do they hate it? Do they hate me!? And so on. The same goes for sex. At least, some of the time. If you and your partner are going at it and you decide to try something new — let's say you lick their elbow because you're a freak in all the right ways — and it's so quiet you can hear the Succession theme song playing on your neighbor's TV three floors above you, that could mean one of a few things: One, your walls are way too thin. Two, your partner was so into your new move that they were forced to absorb the overwhelming sensation with the stoicism of a Buddhist monk. Or three, they weren't really into it, but didn't know how to tell you.
Noisy sex — which can involve nonverbal communication like ooohs and ahhhs, plus verbal communication like, 'it would be so hot if you licked my elbow right now' — is sometimes exaggerated in media, and especially in porn. The extreme moans and groans of some porn actors are enough to make you question whether or not any sex noise is authentic or if it's all purely performative. Sometimes, according to Montreal-based psychotherapist and erotic expert Amanda Luterman, sex noises can be a mix of both.
Younger women in particular may feel that they're supposed to motivate their partner with vocalized positive reinforcement because that's what they've heard in porn, she explains. And while insincere vocalizations can be jarring for some, Luterman says the connection between sound and arousal is powerful. Just the simple act of making sexy noises can ground you in your body and heighten your pleasure, even if you weren't fully in the mood before.
"As long as it's not disingenuous or an act of self-betrayal — like if you sort of feel you're only doing what you're supposed to be doing, then that's not good. But if you're doing what you enjoy and it was something that makes you feel desirable, by all means."
Whether you shout your pleasure from the rooftops or your orgasms are more like silent prayers, your sex communication style is unique to you and can be an asset in your quest for arousal. Here's everything you need to know about noisy sex, from dirty talk to guttural yawps and back again.
Experts:
Amanda Luterman, psychotherapist and erotic expert, founder of Center For Erotic Empathy
Celeste Hirschman, MA, sex expert, therapist, and co-founder of the Somatica Method of sex