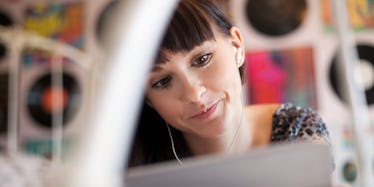 Why Faking Your Online Dating Profile Only Makes It Harder To Find Love
Ladies, I heard a rumor — a terrible, horrible, no good, very bad rumor.
I heard you are going on dating sites and putting up pictures of yourselves from 10 or 15 years ago ... or pictures that make you look skinnier than you are ... or picture that make you look like you have bigger boobs ... or pictures that simply make you look like someone you are not.
Where did I hear this ugly rumor?
I heard it from men who use these very same dating apps — men who at one time may have wanted to date you (yay!) but now, because you put up these ridiculous, misleading pictures, do not. (boo!)
And these men are pissed. They're really pissed.
So, stop it. Stop faking your online dating profile right now.
No guy likes to show up for a date expecting to meet one woman, and instead meets another version of her. I had one guy friend of mine say to me,"The woman I met on our first date looked like she ate the woman in the pictures on her profile page."
Harsh? Perhaps. But misleading and dishonest by the girl? Definitely.
Harsh? Perhaps. But misleading and dishonest by the girl? Definitely.
Ladies, we are 100 percent guilty of perpetuating this catfish BS, and I hear the same story from guys time and time again. They're sick and tired of you not looking like you. And I don't blame them one bit.
We women are smarter than this, are we not? We know what men like when it comes down to it: they like women, all types of women. Men like women with curves, rail-thin women, women with boobs, women with no boobs and hips, women with no hips, redheads, brunettes, long hair, short hair and everything in between.
They like it all, so why are we still trying to fake it? All men ask is that we be real.
Let's think about this: How does your showing up to a first date looking like someone totally different going to benefit you at all?
It only makes you look desperate.
It makes you look sad. It makes you look like you don't like how you look, and don't have any self-confidence. And you SHOULD have that, you absolutely should, because what is sexier than self-confidence?
Above all, it makes you look deceptive and un-trustworthy.
And what's sexy about that?
How is any guy going to trust you and be expected to want to build a relationship with you if he is tricked by you from the get-go?
And it certainly isn't going to get you a second date.
Would you want to go out with someone on a second date, if, on the first date, you felt he tricked, misled, deceived or lied to you? No, you would not.
Sure, we all want to showcase our most attractive pictures on our dating profiles. That's fine. That's allowed. But they need to be  be realistic.
Push-up bras, good lighting, poses that make your arms look skinnier and pictures from 10 (or more) years ago are not your friends. They are your enemies. Filters are your enemy. Every guy can see right through them. Stop using filters. All they do is make you look like some weird, fuzzy, ghost person. And when guys see too much filter usage, they become very, very wary.
The jig is up, ladies.
The things that are sexiest — hint: not fake filters — never go out of style.
Self-confidence. Self-respect. Self-awareness. Own who you are. Own it all. Put yourself, your real self out there and see what happens. Showcase all of that, and I guarantee you'll get better results.
And, trust me, that first date will find you all the more attractive for it.