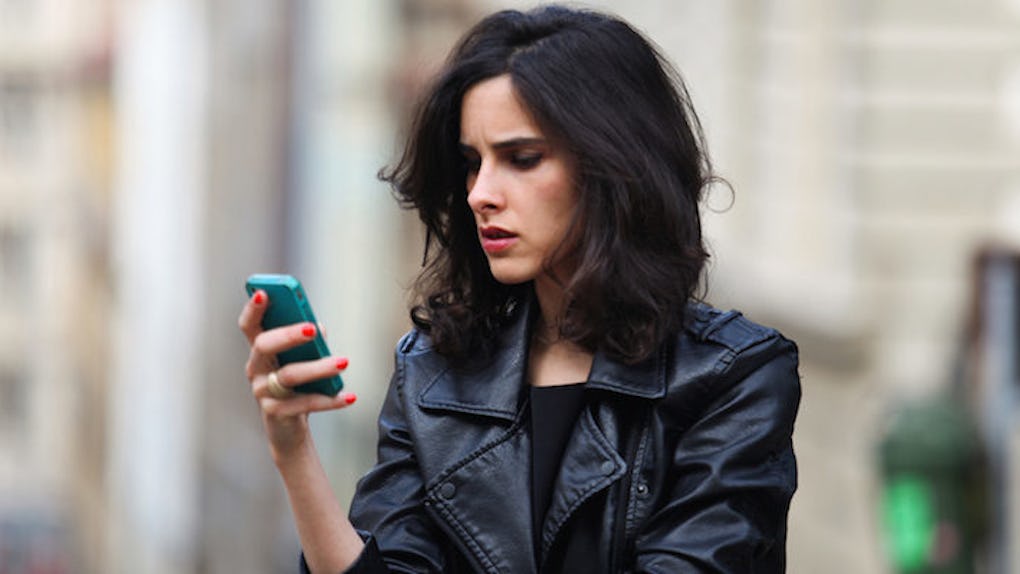 Marija Mandic
So...You've Encountered Your Ex On A Dating App, Here's What To Do
In a world saturated by endless dating apps -- Tinder, Bumble, Coffee Meets Bagel, Hinge, JSwipe, Match.com, Plenty of Fish, Happn, eHarmony, OkCupid -- you're bound to run into an ex online.
Whether the relationship was short-lived or long-term, most people turn to dating sites to rebound or begin their next one.
We've reached a point culturally where online dating is totally socially acceptable and most people have experimented with using it.
Now, what do you do when you see your ex on the latest dating site? Well, it largely depends how it ended.
If he ghosted:
The ghosts always come back to haunt you.
First, take a good look at his photos and profile to get a good read on what he's putting out there -- it's always good to get some kind of answers. Be strategic and investigate since he might not "like" you back.
If you're interested in seeing him again, swipe right to try to put yourself back in the game. You very well might match. And, if you do, start a friendly banter about how funny it is to see each other on this site.
You both have each others' numbers, so move it to text if there's a good opportunity to do so.
Who knows why he ghosted? This might just bring you back together. But, keep your guard up -- ghosts never come back for too long.
And, if you don't match, it's time to take the hint.
If you mutually broke up:
If it's fine and friendly, there's no harm in "liking" the guy or not. This could be a nice closure to the fact that, sure, you dated, but now you've both moved on and are both OK with it. Everyone has to move on sometime.
Chances are, if you're seeing him online, he's seeing you as well. So, the best thing to do is act normal and move along.
If he cheated:
Definitely swipe left and avoid the match.
If he cheated, it's possible he was on the dating site well before you found him on there this time. And, you don't need to see photos from when you were with him in his new online dating profile.
You don't want to be the ex's face who's cut out in that photo where he looks really good.
Once a cheater, always a cheater.
If you cheated:
This can be a possible power play if you want to see him again. If you cheated and you feel bad about it, dating sites aren't the way to make it up to him.
Similar to what I stated in the previous scenario, if you cheated, it seems likely you could have been on these dating sites when you shouldn't have been.
So, swipe left and contact him by phone, if you're so inclined. Otherwise, let it lie.
If you broke up because one of you moved away:
Definitely swipe right! What's more fun than hooking up with someone who's in town for the weekend, whom you already know, with no strings attached?
You probably already have your rhythm, and a night together could be really fun. Plus, you'll know when the other person is "near" for future hookups.
You were a side chick (and the girlfriend is still around).
Click that X, girl. If you were a side chick and he's looking for other side chicks, this is a guy to steer clear from.
Sure, it can be fun, and the sex was probably worth the drama, but who knows how many girls are involved at this point. Gross.
On to the next one.
If he's your friend's ex:
This is tricky. It depends on your friendship and the relationship your friend had with him.
If you think he might be fair game and your friend wouldn't mind, swipe right. But, it's always good to do preemptive damage control and to talk to the friend before you start chatting with her ex.
If you think your friend would mind, swipe left to avoid the drama. There are plenty of other fish in the dating app sea.
If he's just a friend:
You're going to run into people you know from your life on dating sites. Matching with someone on a dating app doesn't mean you're necessarily going to go out with them or are even interested in them -- connecting can be a fun and friendly gesture.
If he really is just a friend, there's no harm in matching.
Who knows? Maybe something will come of it! You're both looking to date, and you already enjoy spending time together. Or it could be a funny exchange that doesn't go any further. Again, totally harmless.
Co-workers aren't off limits, but you might want to make that happen in real life rather than online. It could be awkward at work on Monday after some drunk online messaging.