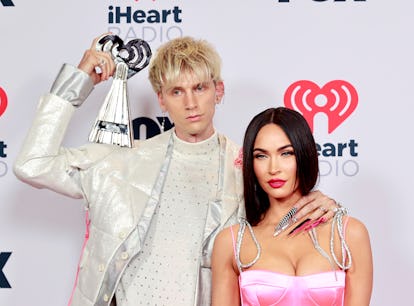 8 Engagement (Or Cocktail) Rings That Look Megan Fox's, Minus The Price Tag
Emma McIntyre/Getty Images Entertainment/Getty Images
Megan Fox and Machine Gun Kelly are engaged, y'all! On Jan. 11, the blood-thirsty (and just plain thirsty) couple decided to spend ~eternity~ together. MGK proposed under a banyan tree, right outside the Ritz Carlton spa in Puerto Rico, and the duo shared the video to TikTok and Instagram the next day. For the proposal, the setting was perfect, the couple was overjoyed, and the ring was noteworthy — and seriously expensive. Fortunately, there are plenty of cheaper engagement rings like Megan's (cause even non-famous twin flames deserve a great ring, right?).
MGK customized Megan's toi et moi ring (French for "you and me," a nod to two-stone setting) includes both of their birthstones for a sentimental reason. He wrote on Instagram, "I know tradition is one ring, but I designed it with Stephen Webster to be two: the emerald (her birthstone) and the diamond (my birthstone) set on two magnetic bands of thorns that draw together as two halves of the same soul forming the obscure heart that is our love." (Serious question: does MGK talk like this IRL? I can't imagine his buddy Travis Barker lets him get away with speaking in romantic poetry over a plate of appetizers with Kourtney Kardashian and Megan, but maybe that's just me.)
No matter what you think of MGK's writing ability (eloquent or over-the-top?), one thing's clear: he knows how to pick a winning engagement ring.
Megan's ring from MGK is iconic, but that doesn't mean it's inimitable. Even if you don't have thousands and thousands of dollars to spend, you can still add some bold green gems and funky rings to your jewelry collection. It's what Megan and MGK would want.