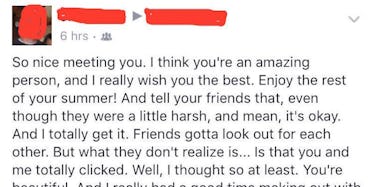 This Guy Wrote The Most Embarrassing Thing On A Girl's Wall After Hooking Up
Twitter
Every once in a while, the universe manages to create a piece of gold.
Sometimes, there are people so wonderfully freaky, so beautifully unaware and so exceptionally socially inept that you remember why people say that if there is a God, he's laughing at us. (If you've never heard of that saying, I SWEAR PEOPLE ACTUALLY SAY IT.)
Some people are just freaks. And you know what? I love myself a good old-fashioned freak with zero social skills.
Those types of people are like this guy, who decided it would be a good idea to WRITE ON A GIRL'S FACEBOOK WALL after making out with her at her 21st birthday party.
If the caps were not enough to capture your attention, I'm going to reiterate it for you one more time: He wrote on her Facebook wall. It wasn't in a private inbox or a text the next day. It was a Facebook wall post.
Like, she doesn't even need to screenshot it and text it to her friends to show them how embarrassing he is. No, her friends will see it for themselves on their news feeds.
I mean, obviously, she had to tweet it because it was so absurd. But the fact SHE DIDN'T HAVE TO because it was already being displayed IN PUBLIC for all of her friends and family to see is just a hoot and a half.
And that's not even mentioning the contents of the actual message.
I mean, read for yourself below, but these are some of my personal favorite excerpts to look out for: "I really had a good time making out with you," "I, seriously, just recently sold my phone. And no longer communicate that way" and, my personal favorite, "I'll ttyl," followed by an excerpt longer than this article.
Read for yourself and feel free to awkwardly cringe:
She tweeted it with the appropriate caption, "It's all fun and games until u kiss a stranger at a bar on ur 21st and he decides to POST ON UR FB WALL" yesterday. It has already gotten 476 retweets and 3,100 favorites since I last checked a second ago.
Yeah, this is pretty embarrassing.
Citations: A Dude Who Made Out With A Random Chick On Her 21st Birthday Is Going Viral For Leaving This Embarrassing Facebook Post Afterwards (Barstool Sports)