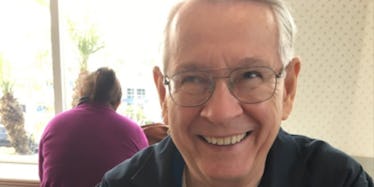 Grandma Taking Pic Of Grandpa Each Time They Eat In-N-Out Is Proof True Love Exists
Twitter
STEP ASIDE, JIM AND PAM! TAKE A HIKE, FOX AND THE HOUND! SAYONARA, UNLIKELY ANIMAL BEST FRIENDS!
There's a new adorable couple in town, and they go by the names of Most Lovable Grandma and Grandpa. (Full disclosure: I actually have no idea what they go by, but that's what we should call them.)
This amazing older couple loves two things: each other and dining at In-N-Out Burger. If that's not true love, then I'm not interested in true love!!! You hear me, universe?!
Apparently, the amazing duo are the grandparents of Twitter user Heather Daniels, whose grandma texts her a photo of her grandpa eating In-N-Out every time the two eat at the amazing fast food joint.
Heather, I HOPE to be like them one day, too.
The series of photos shows Heather's grandpa rocking a genuine smile while holding up some sort of In-N-Out delicacy, like fries, soda or the burger itself.
Imgur commenters couldn't handle the cuteness, but more importantly, they couldn't stand how amazing the gentleman looks in blue plaid shirts.
And I gotta say... they have a point. Mr. In-N-Out is a looker.
Other commenters were reminded of the simple joys in life, like family and a good burger.
Really, we're all just jealous of these two.
But this person understands what we're all thinking.
For me, I am constantly LIVING for old people. I think they're the only people who understand anything, and I'm always envious of their carefree ability to speak and live their damn truth.
I mean, is In-N-Out the HEALTHIEST choice for an elderly couple? Probably not. But who are we to deny these beauties the crispy happiness of a fresh French fry?
Speaking of crispy, this couple reminds me of my other favorite elderly duo featured in the actual, laugh-out-loud video below.
I don't want to give anything away, but I WILL say I laughed real tears out of my dry, cracked, skeptic eyes throughout the entire duration of the two-minute video.
May we all live long enough to develop the attitude these older lovers share when eating deep-fried food.