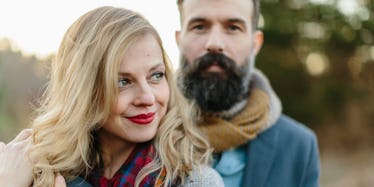 eHarmony Is Ditching Its Insanely Long Questionnaire Because Dating Is Hard Enough
My mom's dating site of choice, eHarmony, is undergoing a TOTAL revamp just in time for the holidays.
In an attempt to speed up the matching process for their users, the website is making that super long, boring AF questionnaire optional.
If you want to take it, you can, but you can also get started quickly by taking a new, much shorter questionnaire that eHarmony guarantees will take you "10 minutes or less."
10 minutes or less!
OK, well, if I'm being real, that doesn't sound super quick to me.
Obviously, this isn't as quick as, say, Tinder, where it only takes its users 10 seconds or less to log on and get started, but we have to remember eHarmony is really trying to make sure you match with someone you'll actually be into.
But I guess you just have to think about it like this: Investing 10 minutes on that questionnaire can save you an hour of your time wasted on a date with some boring loser, with particularly chiseled abs in his mirror pics.
What's my favorite part of this new update? First of all, THANK YOU for asking. Second, to answer your question, it's something called "The Two of You Together."
It's cool because it literally just tells you, based on your questionnaire answers, why it is that you and the person you just matched with are (or aren't) compatible. It gives you a sneak preview of your life with this person without ever having to even go on a first date.
In what I can only assume is its attempt to compete with dating apps like Tinder and Bumble, eHarmony is allowing its users to text in real time once they've been matched.
Honestly, I'm pretty into it. The way I see it, these changes are giving you the best of both worlds: the quality matches of eHarmony with the speed and ease of dating apps like Tinder and Bumble.
SOUNDS GOOD TO ME.