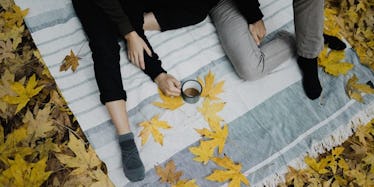 5 Easy Romantic Things To Do For Your Partner If You're The Least Romantic Person
I am probably the least romantic person of all time. Romance takes a certain amount of courage and vulnerability that I just do not have. So I always wonder, what are some easy romantic things to do for my partner that don't require, well, the mushy stuff? I absolutely refuse to write poetry, and there is no way I am going to serenade my significant other with a love song — don't even think about it. Love letters aren't really for me either, and I've never even cooked a meal without burning it. Dressing up and going to a nice dinner is fun sometimes, but it's also a lot of pressure, and those nights tend to be nerve-wracking instead of fun, not to mention expensive.
But I have honed in on some activities you can do to show your partner you care, without seeming overly caring, thirsty, or desperate, which are my greatest fears in life. It turns out you don't have to be Romeo, Juliet, or an angsty, emo teen in order to let your significant other know that you love them.
So here are five easy romantic things you can do for your partner, even if you are the least romantic person. Not to mention, they're all cheap. Yay!
1. Record Their Favorite Show (And Watch It With Them)
My ex-boyfriend used to love the show Shameless. It really wasn't my thing — in fact, I actively didn't like it — but it was an important part of his R&R to get in bed and watch it with snacks and a glass of wine. I'd do my best to get out of it every week, planning a girls night or stay late at work, and I could always tell it really bummed him out. And when I say "do my best to get out of it," I mean I absolutely never watched it with him.
Eventually, this led to a fight. I got it, though. When you care about something, you want to share it with your partner.
So one night, I invited him over to my house to watch his beloved show. I not only recorded it on my TV for him, but I also caught up on all the previous seasons. We ate dinner, watched the episode, and I made a deal that from there on, I'd watch Shameless each week with him in bed, as long as I got to choose the snacks.
I didn't realize it, but it actually meant a lot to him and really improved our relationship. So a small romantic gesture, like picking a television show and watching it with your partner, can sometimes mean more than you think.
2. Send A Random Text
At the end of the day, you just want to know you are cared for and thought about, right? It's simple, and your partner wants the same. Love doesn't have to be over the top and complicated. In fact, sometimes, it's the smallest gestures that actually mean the most.
Send your significant other a text during the work day to let them know you're thinking of them. Shoot them a cute selfie or maybe even a sext, if you're feeling NSFW. Let them know you miss them, or that they looked cute the last time you hung out.
Anything that you would want to hear from your partner, your partner wants to hear from you. You can even text your BF or GF a heartbeat or a kiss over iMessage, and they can save it to their phone. There are a million ways to be adorable over text, and you don't have to get overly romantic even once.
3. Order Delivery From Their Favorite Restaurant
To be totally blunt, I can't cook for sh*t. So why not cut a few corners and have your partner's favorite food be waiting for them when they come over for date night by ordering in delivery?
They say the key to someone's heart is through their stomach (I second that), and I personally couldn't think of anything more romantic than if I came home to my boyfriend's house, and he had a million pizzas and frozen yogurts already waiting for me. I mean, I would marry him on the spot.
So a great way to show you care is actually delivery. When your significant other walks in to a feast of their favorite foods, they'll be yours for life.
4. Pack A Picnic
Picnics are a great date idea that not only show you put thought into the planning, but they're also surprisingly easy, not to mention fun and creative. Pack a basket with some easy snacks: pretzels, hummus, chips, cheese, breads, and fruit. Grab some sparkling waters and maybe some wine, and then, grab a blanket and head to the nearest park.
You can bring a speaker, games, books, and even your pet, and have a fun date outside that's incredibly romantic, but not incredibly expensive. Cuddle in the sun, make out, and even take a nap if you want to. Low pressure, low maintenance dates are the best because your relationship is what gets to shine through.
5. Make A Coupon Book
Don't exactly know what to do for your partner? Then why not make them some love coupons, which can be totally customizable. You can even leave the date activities up to your partner to decide! Write things like "this is good for one romantic evening of your choosing" or "this is good for one back rub" or "I am yours for the weekend," to put the ball back in your partner's court. If you're squeamish about getting romantic, a coupon book is a great way to show you care without having to get too specific about how you do it.
So if you're looking for something to do to let your significant other know you love them, give one of these activities a try. You don't have to get mushy about it, not even for a second.
Check out the "Best of Elite Daily" stream in the Bustle App for more stories just like this!