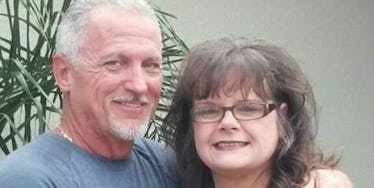 Terminally Ill Man Receives FB Message From Long-Lost Love And Marries Her On The Spot
Facebook
Toss your doubts about true love in the garbage, folks.
After you hear this story, you'll believe anything is possible.
A terminally ill man had his life changed forever when his long-lost love found him on Facebook. Just hours after reuniting, the two decided time apart would never work again, so they got married.
Yep, that's right. The whole thing was basically "Hello, what's up? Want to tie the knot? Cool, great." But first, let's go back a little.
60-year-old Ken Boyer was living life with terminal cancer when, suddenly, he got a surprise message on social media from Michelle "Shelly" Kimbrel (the woman of his dreams).
The two had become acquainted about 20 years prior back in Missouri, where Boyer was a bar owner and Kimbrel was a resident.
Their relationship was short-lived, and though their lives went on, their love for each other clearly stayed strong.
It wasn't until Boyer's profile made an appearance on Kimbrel's "People You May Know" list that she decided to reach out.
After chatting back and forth with Boyer, who mentioned his terminal diagnosis, Kimbrel made the quick decision to uproot her own life and fly down to be with him in Florida.
"I'll take a leave of absence from work, " she told Click Orlando she said to Boyer. "I'll talk to them and see what I can do. I will take care of you."
And just like that, Kimbrel made her way to the Sunshine State and became Mrs. Boyer within hours of her arrival.
The two became husband and wife in the midst of the softball fields where Boyer plays. This was his way of thanking his friends who, through a weave of connections, brought Kimbrel back into his life.
Boyer went on to describe his marriage to Kimbrel as the ultimate ending to a "really good life."
"It's tough for me to have to accept this, but I have," Boyer said. "God has been good to me and if this is my time, then it's my time. God could not give me a better present if this is my last hurrah. I could not have asked for anything better."
Boyer and Kimbrel are set to travel back to Kimbrel's residence in Missouri, where she'll take care of him during the remainder of Boyer's treatment.
There's no note as to how much time he actually has left, but I'm sure his remaining days will be spent blissfully with his new wife at his side.
Citations: Terminal cancer patient, 60, marries his long lost love after reconnecting with her on Facebook 20 years later and proposing within hours of their reunion Read more: http://www.dailymail.co.uk/news/article-4465910/Terminally-ill-man-60-marries-long-lost-love.html#ixzz4fx2fri00 (DailyMail.com)