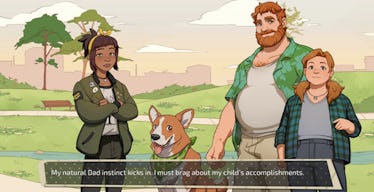 A New Game Lets You Romance Hot Dads And It's Literally All We've Ever Wanted
store.steampowered.com
I've always been a fan of virtual reality games.
And by "a fan of virtual reality games," I mean I literally was at Apple Store the morning The Sims 4 was released... my senior year of college. Then, I obviously didn't go out that weekend so I could properly spend my time gaming.
I also spent an entire summer of my life playing Millsberry. (If you know, you know.)
So, yeah, I like a good, old-fashioned virtual reality game.
I MEAN, THE ONLY THING MORE FUN THAN REAL LIFE IS CREATING A FAKE VERSION OF REAL LIFE WHERE YOU'RE SUPER HOT, AND ALL YOUR CRUSHES ARE SUPER HOT, AND YOU ALL EXIST IN THIS BEAUTIFUL CYBER WORLD, AMIRIGHT?
Right.
Well, a new virtual reality game is being released soon, and it's basically everyone's dream come true.
The game is called "Dream Daddy: A Dad Dating Simulator."
If you didn't get a chance to read what the game is all about in the tweet above, check out what the "Dream Daddy" website has to say about the game real quick:
Dream Daddy: A Dad Dating Simulator is a game where you play as a Dad and your goal is to meet and romance other hot dads. You and your daughter have just moved into the sleepy seaside town of Maple Bay only to discover that everyone in your neighborhood is a single, dateable Dad! Will you go out with Teacher Dad? Goth Dad? Bad Dad? Or any of the other cool Dads in this game? With minimums, sidequests, and a variety of paths and endings, Dream Daddy: A Dad Dating Simulator is this year's most anticipated Dad-based game.
OK, so granted, there aren't a lot of "Dad-based" games, so you've gotta admit this game sounds like a TON of fun.
In the game, your player is also a hot dad, so literally create your own hot dad look.
Then, you roam around town flirting with other hot daddies, like this bad boy who hangs out in creepy alleyways and might be a zombie...
Or this hipster dad who hangs in coffee shops...
Or this ginger daddy who's just proud of his ginger daughter...
...or this intellectual, cheese-loving daddy.
The game's already been getting lots of hype on the internet, and people are already calling dibs on which daddy is theirs.
Porn sites have even started capitalizing on the new idea.
It's getting mad respect for the diverse selection of dads they've created.
And people are even loving the daughter.
If you just can't WAIT to get started playing this game, unfortunately, you are going to have to wait a bit.
According to Steam's website, "Dream Daddy" won't be released until July 13, 2017.
All in all, whether you actually plan on playing the game or not, you've gotta admit this is a pretty huge step in the right direction when it comes to accepting all sorts of love — daddies included.