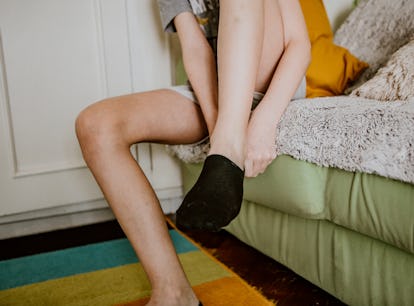 Does Wearing Socks During Sex Help You Orgasm? It's Complicated
Read this before you buy a value pack.
Carol Yepes/Moment/Getty Images
When it comes to hooking up, there's so much information out there that it can be difficult to know what to believe. Some claims have been scientifically proven to be true, while others aren't necessarily false — there just isn't enough data on the subject yet. You may have heard people say that wearing socks during sex can help you orgasm, but is this just another popular myth, or is there actual research to back it up? Well, it's kinda both.
Socks might not be the sexiest piece of clothing, even when they have a lace trim. But a 2005 study from the University of Groningen in the Netherlands seemed to indicate that socks could have a very *spicy* effect on your sex life. Researchers asked 13 heterosexual couples between the ages of 19 and 49 to participate in the experiment. They looked at the difference between male and female orgasms through a series of tests that included doing a brain scan on one partner while the other stimulated them until they climaxed. The researchers also conducted scans while the subjects faked orgasms.
It was a staged environment, and the temperature of the room may have affected the results. At first, only 50% of the couples achieved orgasm. Thinking maybe they were cold, Holstege gave everyone socks to wear during the next round of the experiment. While wearing the socks, about 80% successfully climaxed. That's a 30% increase, just from adding socks to the equation.
The Results, Explained
Although correlation does not equal causation, based on this experiment, it does seem like comfort could play a role in being able to orgasm. It's worth noting that the sample size was really small, and the results don't prove that socks were the defining factor. In short, there's no reason to think that one pair of socks will increase sex drive or lead to better orgasms (unless you're really into socks — if so, feel free to do you!). Rather, socks keep you comfortable, which might make it easier to tune into the moment.
"Keeping your feet warm promotes better comfort and less distraction during sex," Dr. Shannon Chavez Qureshi, licensed psychologist and certified sex therapist, tells Elite Daily. According to her, "feeling comfortable during sex helps you stay in arousal longer, which is more likely to create space for an orgasm." Being cold has the opposite effect. "It can trigger a stress response and cause a major drop in your arousal response."
Beyond just keeping you warm, wearing socks helps the blood vessels in your feet dilate, which is also something that happens when you're getting ready to fall asleep. This allows for better blood flow, a factor in having more satisfying orgasms.
So, Should You Bundle Up?
One small study is not enough to prove that wearing socks actually lead to better orgasms, but there's no harm in trying. Per Chavez Qureshi, preventing cold feet (literally) might help you climax. "The muscles relax, the mind is focused, and you feel more present" when you're comfortable. "Wearing socks has the benefits of reducing stress and anxiety around sex by helping couples be in the optimal state of comfort and sexual responsiveness," she adds.
Suffice to say, wearing socks in bed isn't just something people do for no reason. Despite a lack of evidence, there's no harm in giving socks a try. And if a pair of socks is all it takes for you to have more and better orgasms, you might as well try it on for size.