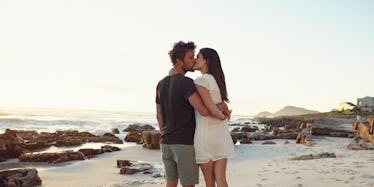 Why Dating A Workaholic Can Actually Be Healthy For Your Relationship
We all know someone who never leaves the office, literally or figuratively.
This person seems inseparable from his or her career to the point where there are no boundaries between work life and personal life. Everything about this person screams "workaholic."
It may seem like dating a workaholic would be a frustrating, overwhelming, hair-pulling experience, and it can be. I know this firsthand.
However, dating a workaholic – someone who will not invest as much time in your relationship as you want – can actually be healthy for you. Here's why:
He or she will challenge you to not be complacent.
Your workaholic significant other will be so focused on his or her work that the spirit of healthy competition will challenge you to better your professional life as well.
Instead of being complacent with your job, your SO's unyielding work ethic will urge you to focus on your career.
Just as misery can breed misery, success can breed success.
There's a reason why power couples exist; when you spend enough time with someone who is so determined to accomplish a career goal, there's no doubt you'll become just as focused on your career, too. Boom. Power couple.
When you are with your SO who can't seem to "turn off" work mode, remember to take advantage of it. You are in the best environment to motivate yourself to become a career badass as well.
You will never be suffocated.
We've all had those friends and significant others who just don't stop calling or texting you, even during the week when it would be clear to anyone else that you're be busy with work or school.
There is also the person who thinks he or she is the only friend you have and insists on being your entire social life.
People can sometimes be suffocating, and your workaholic SO will never be one of those people.
Instead, you'll have time to shop as slowly or quickly as you want, without someone rushing you to make up your mind or slow you down and make you wait on whatever surface is suitable for sitting.
You'll have time to enjoy the greasy, heart-attack-inducing or uber-healthy foods your SO refuses to touch.
You won't be short of any relaxing, much-needed "me time."
If the relationship really means something to him or her, you will easily know.
Work life is so important to your SO that you will know if your relationship truly means something to him or her.
Unlike relationships with other people, when your workaholic SO ignores work and makes time for just the two of you, you'll know that you are valuable to him or her.
Just knowing this will make the time you spend together even sweeter.
When you have uninterrupted dinners or nights in watching a movie with your workaholic SO (sans-emailing or texting), you'll know that your SO is willing to put aside something important to him or her.
Your relationship truly means something.
Workaholics are very easy to pinpoint, actually. They only peel themselves away from their beloved to-do lists for people who are actually important to them.
You won't ever be left guessing whether or not your SO sincerely values you.
You will be able to truly admire him or her.
You saw it on your mother or father's face when he or she bragged about the trivial things you and your siblings have done in the way only proud parents can do.
There's nothing quite like having genuine admiration for someone you also love.
When you date a workaholic, not only will you be in love with someone, but you'll be in love with someone you authentically admire.
The butterflies-in-your-stomach feeling will triple when you realize you're in a relationship with someone who is so strong-minded and unwavering in work ethic, and someone who is doing big things that make you proud to be his or her SO.
To me – someone who has big dreams for myself – determination and tenacity are two of the most attractive qualities I could find in another person.
When you date a workaholic, you'll be so busy bettering yourself and striving for the best for your own career, you may not notice how much grit and drive you've personally developed.
And, one of the greatest feelings you'll experience while having a workaholic as your SO will be when the person you have so much admiration and love for praises you for your success, and gives you admiration and love right back.