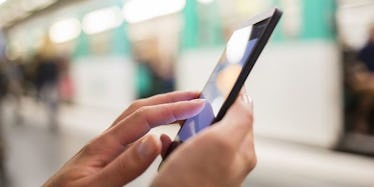 6 Dating Apps You Can Try That Won't Connect To Your Facebook At All
Shutterstock
Online dating seems to be the norm these days, but there is something you might not like about it.
No, not the endless sea of potential duds, but the fact you need to link your Facebook account to the dating app.
One of the most popular dating apps, Tinder, asks you for your Facebook account information, which means your friends and family might get involved in the dating process unwillingly.
And there are actually more disadvantages of linking a dating app to your social media account than you might think.
First, you may not have a social media account at all. Should this prevent you from accessing online dating platforms? I don't think so.
Second, you might not be willing to let your friends know you're starting to date online. After all, why should you have to share your dating adventures with everyone you know?
Regardless of the reason you don't want to link your dating app to your Facebook account, there are many Tinder competitors out there that you can use instead.
Yes, there are ways to prevent Tinder from linking to your Facebook account, but here are some other options you have when it comes to dating online:
OkCupid is a classic when it comes to online dating, and the fact it's been around for some time now says a lot about its quality.
One of the reasons OkCupid is so popular has to do with its swipe feature, which is very similar to Tinder's.
Apart from that, OkCupid has a thorough question/answer matching feature, which seems to work really well in providing long-term dating success.
Another classic, PlentyOfFish offers multiple matching features, which can come in handy if you're looking for a solid match.
You can choose to view the profiles of people you like and send them messages or even click the "meet me" button to let someone know you're interested in meeting IRL.
The amount of notifications you get may overwhelm you, but it's still an app worth trying.
This is one of the more creative dating apps out there, and for some, it might be even better than Tinder.
How About We enables you to get straight to point of meeting people who agree to do a certain activity with you.
For example, you can answer to someone who says, "How about we go skating together?" This allows you to get an idea of a person's hobbies — which do say a lot about a person.
Bumble was created by a female former Tinder employee, and this is pretty evident from the first look at the app.
Bumble allows women to take control of the entire dating process. They're the only ones who can start a conversation. And if they don't send a message within the first 24 hours, the match fades out.
Willow takes a completely different approach to online dating.
While other apps are focused on images, Willow is more focused on personalities. This means you actually talk to potential dates first, and then, you see their images.
When you think about how shallow our society can be, this app is definitely helping you develop connections with many different people in a new way.
Wingman aims to match travelers together in its creative approach to online dating.
The good thing about this app is, it enables you to find a flying partner for your trips out of town. Then, during the trip, you can chat and see if you truly match or not.
If you don't, you can just thank your match for the chat and continue on with the rest of your journey.