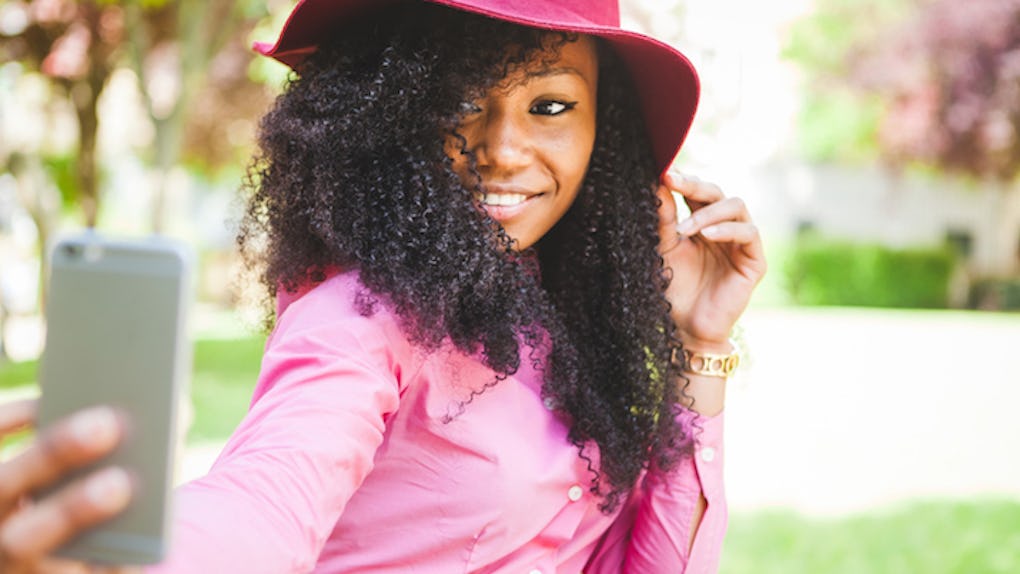 Giorgio Magini
Smiling With Your Head Tilted To The Side Will Get You More Right Swipes
If you're a woman trying to attract the opposite sex, here's a tip: Smile.
I swear I'm not just quoting the creepy homeless catcaller who spends his time outside your subway station. It's actually scientifically proven! A 2011 study found that men are more attracted to women who smile.
So I don't care how sad you are, JUST SMILE BECAUSE BOYS WILL LIKE YOU!
But how should you smile? I mean, do you go for a soft, sexy, mysterious closed-mouth smile? Do you pull a page out of my grandma's book and "smile with your eyes"? Do you go for an (obviously not) candid laughing shot?
Or maybe, you just go for a classic normal school-picture style smile? But even then, there are so many more factors to take into account. Like, which side do you tilt your head to?
Or, do you not tilt your head at all? Is having a "good side" even a thing? UGH, SO MANY QUESTIONS.
But don't worry, ladies. Dating app, Coffee Meets Bagel, has got your back. They collected data from 300 profiles on the app and analyzed the most popular singles (i.e., people who are "liked" over 50 percent of the time their profile is displayed to a user) to find out exactly how to perfect your dating smile.
Read over these highlights from their study so you can revamp your profile and SLAAAAAAAAAY.
Tilt your head to the side.
About 71 percent of women who are liked over half the time have one thing in common: They tilt their heads to the side when they smile in their pictures.
So find your good side and STICK TO IT.
Show your teeth.
This is actually scientifically proven. According to Daily Mail, a 2012 study reported that found people with white teeth are more attractive.
Coffee Meets Bagel's research just confirmed this in its finding that 58 percent of women liked over half the time show their teeth when they smile.
And if you're feeling super adventurous, close your mouth.
For all you risk takers out there, almost a quarter (24 percent) of Coffee Meets Bagel's most liked women are racking in the likes without showing their teeth at all.
But if you do choose to go down this road, consider yourself warned: I will never be able to take you seriously.
I can't see a closed-mouth smile without assuming you just farted — Candice Jalili (@CandiceJalili) April 8, 2016
What's the worst smile you could do?
Only two percent of the app's most popular ladies are laughing in their photos... so maybe chuck that candid laughing pic that you thought was so cute. Because it's not.
Citations: Smile! Why white teeth are a sign of good health and make you more attractive (Daily Mail), Happy guys finish last: the impact of emotion expressions on sexual attraction. (PubMed)