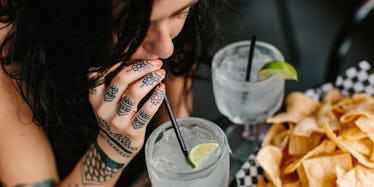 Why You Should Drop Everything And Date The Girl Who Drinks Tequila
Every type of alcohol comes with its stereotype: wine is for the wise, whiskey is for the tough and rum is for the pirates. But then, there is a drink that can only be handled by the very strongest of women: tequila.
While it might be true that a little tequila intoxication can make you go crazy, drinking tequila is less about the sex and more about the sex appeal.
Tequila is unlike any other bottle on the shelf. It's a one-of-a-kind liquor, preferred by women who are also seen as one-of-a-kind. Tequila-loving women are hard to come by, and even harder to keep. They are free-spirited, confident and just overall sexy.
The woman who drinks tequila makes a truly unique type of lover. The love us tequila-chugging women hold is passionate and unparalleled, and it is definitely outspoken.
We aren't afraid to tell it like it is and go after what we want. After all, when we want something, we will do almost anything to make sure we get it.
Tequila-loving women are strongly independent on an entirely new level. The independence of a woman who loves tequila is directly replicated by the way she drinks her drink: straight up.
There are many reasons why men should look for women who know how to handle their liquor, but there's even more of a reason why men should look for women who know how to handle their tequila. (Also, when I say men, I mean "real men" because the tequila-drinking girl has no time for boys.)
A woman who loves tequila does not need a chaser to back her up, so what makes you think she'll need a man to? A truly independent tequila-lover never appears desperate, which will make her even more desirable to men.
When she finds a guy who can hold her attention, she'll use her inciting flirtation to keep him on his toes while she tosses back the shots she ordered. I can say for sure that when I have Jose in my hand, I need a guy with a truly unique flavor to match up.
Tequila represents a strong, passionate attitude. It takes a truly unique and untamed spirit to drop shots of Patron on a weekend basis, and above all, it takes the perfect attitude to match.
Tequila girls do not back down. We know what we want, and we know how to get it. We are passionate about our drink, which makes us even more passionate about the way we love. We are committed to the tequila we drink. When it comes to love, we give that same dedication to our significant others.
When we find the right guy, we make it known how we feel about him. We make sure our men know their place in our lives.
Our passionate personality means we aren't just settling for the first sweet drink that comes our way. Rather, we are waiting for that perfectly chilled Don Julio on the rocks to sweep us off our feet.
There are very few things that are sexier than a woman who can handle her liquor, but the sexiest thing for sure is a woman who can handle her tequila. Sure, a shot of Smirnoff is cute. But have you ever tried a few shots of 1800?
The sex appeal that oozes off a woman who orders tequila every time she steps into a bar, restaurant or club is what separates the men from the boys. Vodka can be hot and wine can be pretty. But if you're looking for fiercely sexy, you're looking for the woman drinking tequila.
This woman is not just independent, passionate and sexy, she is also predominately fun. The girl who drinks tequila is without a doubt the life of every party. She can dance with you all night long until the morning, and be the first one to wake up the next day to do it all over again.
The adventure she brings along with her in her relationships is ultimately matchless. When you date the tequila-loving woman, you are guaranteed a love life that is far from boring.
The adventure she brings along with her in relationships is ultimately unparalleled. As she asks the bartender for more shots of Avíon, you'll be asking for more of her, too.
Silver or gold, you ask? The tequila lover says both.
We want the classic romance of love that comes with the gold, as well as all the adventure and spontaneity that is paired with the silver. The woman who drinks tequila is a combination of all things great in life, and she truly knows how to make the most of every moment. After all, she is known for the saying, "When life gives you limes, just add tequila."
Ladies, don't be afraid to start something new, and switch out the cosmo for a Cuervo. Men, don't let her love for tequila intimidate you.
Good girls might be made with sugar, spice and everything nice, but the best lovers are made with tequila, lime and everything fine.