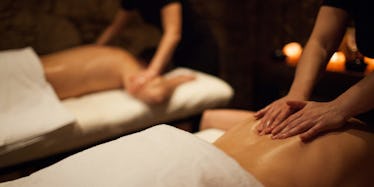 8 Things You Need To Know Before Experimenting With Couples Tantric Massage
Leandro Crespi
Tantric massage can ignite the passion back into your relationship. If you are searching for an erotic experience that connects you and your partner on a deeper level, then a sensual massage is the ultimate indulgent therapy.
This pleasurable encounter ensures you both have sexual bonding time in a safe and discreet environment. However, if you're new to tantric massage, you may be wondering how you can gain the most from this experience.
Here are eight tantric massage tips for adventurous couples that I recommend:
1. Know what to expect.
I'm sure many enjoy surprise and mystery, but knowing what to expect before the experience will allow you to both confidently take pleasure in tantric massage. This experience gives you the opportunity to explore your partner in a sexual way, as well as invite another person into your sensual relationship. While a third person is invited into your sexual space, you still remain in complete control.
2. Choose two masseuses for an identical experience.
Bringing another person into your personal space allows you to observe your partner receiving sexual pleasure, expand your tantric knowledge and increase contentment in your sex life. Opting for two professional couple masseuses gives you the opportunity to experience tantric massage simultaneously, connecting on an emotional level.
3. Observation will heighten your sexual awareness.
Observing your partner being aroused by tantric massage means you can both learn new ways of pleasuring each other. For instance, I would highly suggest couples who want to expand their sexual knowledge to try a body-to-body massage, in which skin-to-skin contact is made to provide a wonderful erotic feeling. You can watch as your partner is being pleasured, learn new skills and explore them in your own home.
4. Don't be afraid to try something new.
A tantric massage is the perfect way to try something new. While you may have reservations at first, this safe alternative to booking an escort or swinging is a great way for couples to reignite their love life or to help heal relationship problems. You can both relish the tantric techniques used and learn how to truly satisfy each other.
5. Be open to sexual exploration.
If you'd like to try a female-on-female massage, a lesbian tantric massage can help you open your mind to sexual exploration. This type of massage is available for all women, and many enjoy this experience, even though you're free to stop at any point in the massage. No matter what your sexual preferences are, a feminine tantric massage allows you to be sexually adventurous.
6. Ease your mind.
It's natural to feel nervous if you've never experienced a tantric massage before. However, tantric massage is a professional treatment that is safe for both you and your partner to achieve erotic bliss either outside your home or at your own location. Your masseuse is well-educated in tantric techniques that will help you to develop your sexual knowledge and satisfy your partner.
7. Talk to your masseuse.
When you first meet your masseuse, she will discuss the services she offers as well as your likes, dislikes and requirements. This is your chance to acknowledge any worries or questions you may have about the massage. Massage techniques range between each masseuse, but a professional masseuse will tailor the tantric massage to your needs and desires.
8. Shower together.
It's highly likely that your masseuse will ask you to take a shower before the massage as a standard hygiene practice. Use this time to shower with your partner and connect with each other before the massage begins. Once the massage starts, you'll be surrounded by candles, soft lights, scented oil and soothing music to keep you completely relaxed so you can savor the erotic indulgence.