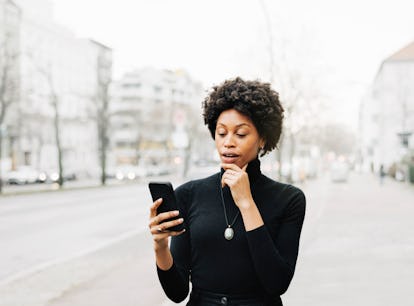 20 Cheating Memes To Make The Worst Dating Sitch A Little Less Awful
Dating trauma makes the memes funnier.
Portra/E+/Getty Images
I don't think it's a hot take to say that cheating is one of the worst things that can happen in a romantic relationship. And although there's no way to make that betrayal go away completely, a cheating meme (or two or three) can help you feel seen at the very least. And hey, laughter is as healthy of a coping mechanism as any.
Whether these posts are about catching your SO in the act or your suspicions getting the best of you, these 20 cheating memes will make you feel seen in only the best way. And TBH, even if you're single, these memes will probably make you feel thankful for your current relationship status.
Of course, no meme will capture exactly what it feels like to be cheated on by your partner (thankfully), but these posts are still worth a look. That said, if you want to feel comforted with a little humor, browsing through some relatable memes is a good idea. But as we all know, social media can be overwhelming — and searching for "cheating memes" might lead you to some dark places of the internet. To narrow down the search, here are the 20 best cheating memes on the internet right now.
See, don't you feel better now? Next time you're feeling down about your relationship status or romantic past, a cheating meme might be just what the ~love~ doctor ordered.
Get The Elite Daily Newsletter
You deserve emails that are actually fun — full of juicy celeb intel, astrology, apt/actually helpful dating advice, and much more. Luckily, our newsletter will bring you all of that, well, daily. Sign up now.