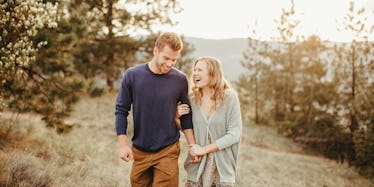 5 Ways To Charm (And Keep) The Pisces You've Been Falling For
Trying to impress a Pisces is like trying to impress the gods of love and imagination at a single shot. It's not an impossible task, but you need to know what you're dealing with in order to be highly successful at manipulating Cupid and directing his arrow right at that dear Pisces you've been admiring.
Here are a few ways you can ensure that this fish comes swimming into your net:
1. They are shy, so you need to initiate.
Honestly, nothing is more impressive than a person who is confident about what he or she is doing. Pisces are more shy than other zodiac signs. Don't expect them to come up with something for a night out or even initiate a thing as small as a regular conversation.
If you like a Pisces and that person is aware of it, he or she will definitely be shy. That's your cue to take initiative.
Why not start with creative and funny love messages for him or her? Aim to make him or her smile.
Then, you can make plans, take him or her out and if you're a magician, hypnotize that Pisces. Because when Pisces fall, they fall very hard.
2. Go beyond their imagination to impress them.
Have you ever dreamt of taking your Pisces out on a picnic? Have you stared at the wonders of the world and let Mother Nature do her thing to bring you both closer?
Then it's time for you to bring that thought up a notch. Pisces are imaginative. He or she has probably seen your idea for a date coming, so you need to do the unexpected here.
Take him or her to place where you can view the landscape of the city while you enjoy your dinner under the stars. (Sounds like a scene from a movie, right? That's exactly what a Pisces wants.)
3. They are filled with wonder. Dig deeper and get to know them personally.
This Pisces could be your acquaintance, your friend or even your best friend. You might know your Pisces inside out.
But, Pisces are well-known for being indecisive, so their aspirations may change every now and then. Since they are the most shy zodiac sign out of the lot, when the conversation seems like it's about to die, ask them about themselves and they can go on forever.
Besides, doing this has two positives. One, they would immediately love the fact that you care and you are interested in their thoughts, dreams and goals (and not just their body). And two, you will be amazed by how they can make you fall for them all over again, just by talking.
4. Handle with care: They're sensitive, emotional and fragile.
They are known to come with direful caution. So, be warned. You need to think about what you say or do twice.
Their hearts are magnified 1,000 times, so every sensation is felt twice as hard. Don't ever ask them to shut up, not do something or even joke around by calling them "stupid." It hits the spot.
It's like asking a grizzly to pat your head softly with their claws, like eating poison ivy and hoping you survive or like jumping into a pool, despite not knowing how to swim. Try to be as polite as you possibly can.
5. Be yourself to earn their trust.
You don't want the indecisive and sensitive nature of the Pisces to interrupt your pathway to eternal love. Pisces have scenarios building up in their heads at the slightest moment of doubt. They are intuitive, imaginative and emotional.
You need to be patient. Take things easy and slow. Make them feel comfortable in your presence and share things about you.
Make them laugh. Show them how weird you are. This way, you can earn their trust.
Just be calm, gentle and patient, and they'll definitely notice this. In return, they'll be empathizing, compassionate and highly selfless around you. In no time, you'll find them falling for you, too.