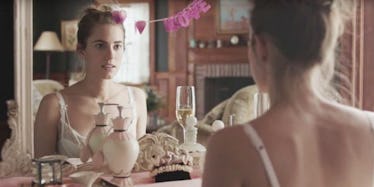 Brides Admit How They'd Plan Their Wedding Differently If They Could Do It Again
HBO
Some of us have a fairy tale-like idea of how we want our wedding to be.
We imagine the flowers tied up perfectly in cascading bouquets, the table cloths matching the color of the dinner napkins, the exact set list we want our band to play throughout the entire night.
We hope that we'll only get married once. We we want it to be the party of a lifetime, or even the party of our dreams.
But when the dance floor has been cleared of guests who flew in from all over the world, the gifts have been unpacked and the honeymoon has been taken, you may realize the wedding you always imagined you wanted caused you more stress, more money and more problems than you could have ever predicted.
It's hard to know what to have and what to skip when you're planning your wedding. That's why it's best to take advice from seasoned vets: brides who have already walked down the aisle and are now wise enough to tell you what they'd do differently if they planned a wedding ever again.
1. I'd invite no one.
I wanted a wedding with 100 people and ended up with 250! I literally just started inviting everyone because I felt bad leaving people out. It cost me so much money, and my wedding day was filled with people I was hardly friends with. I didn't like that I was surrounded by acquaintances and people who aren't really part of my life. If I could do it again, I'd invite, like, 75 people max and be so happy they were there.
— Cassie F., 27
2. I'd do it without the flowers.
I thought I had to have flowers, so many flowers. We spent close to $15,000 just on flowers for the day. It was ridiculous. I had so many pictures pinned to show my florist and he did a great job, but it so wasn't worth it. Nobody noticed. The flowers were so unappreciated by the guests. I barely noticed them. They only looked good in pictures and that was it.
— Wendy A., 28
3. I would not ask for gifts.
We had a destination wedding and got married in Mexico. All of our guests flew in from all over the US. Most of them gave us gifts, and I felt bad because they spent so much money to come see us get married. I wish I would have said no gifts or asked them to donate to a charity instead of giving us the money. I just felt bad.
— Molly B., 28
4. I'd have a longer engagement.
From engagement to wedding day, we only had 11 months. It was such a rush because also during that time, we were moving in together and I was starting a new job. I don't know why I thought I had to rush to plan a wedding. I wish I had a two-year engagement just to sort everything out.
— Pam D., 34
5. I would elope instead.
Weddings are a waste of money. I wish I knew what I know now and just eloped. We'd save $75,000 and use that for a better cause, like a house or a car, rather than an 8-hour party where people are too drunk to know what is going on.
— Shelby T., 28
6. I'd do a band over a DJ.
My DJ did nothing and I paid him $5,000. I wish I had a band. It would have been more lively and people would have been on the dance floor instead of in their seats on Facebook.
— Rachel P., 30
7. I'd skip the bridesmaids.
My biggest wedding planning mistake was having ten bridesmaids. I thought I wanted all these girls to stand by my side and be there for me on the wedding day, and it was such a bad idea. They brought such stress to the whole thing. If I could do it again, I'd have no bridesmaids at all.
— Dani R., 27