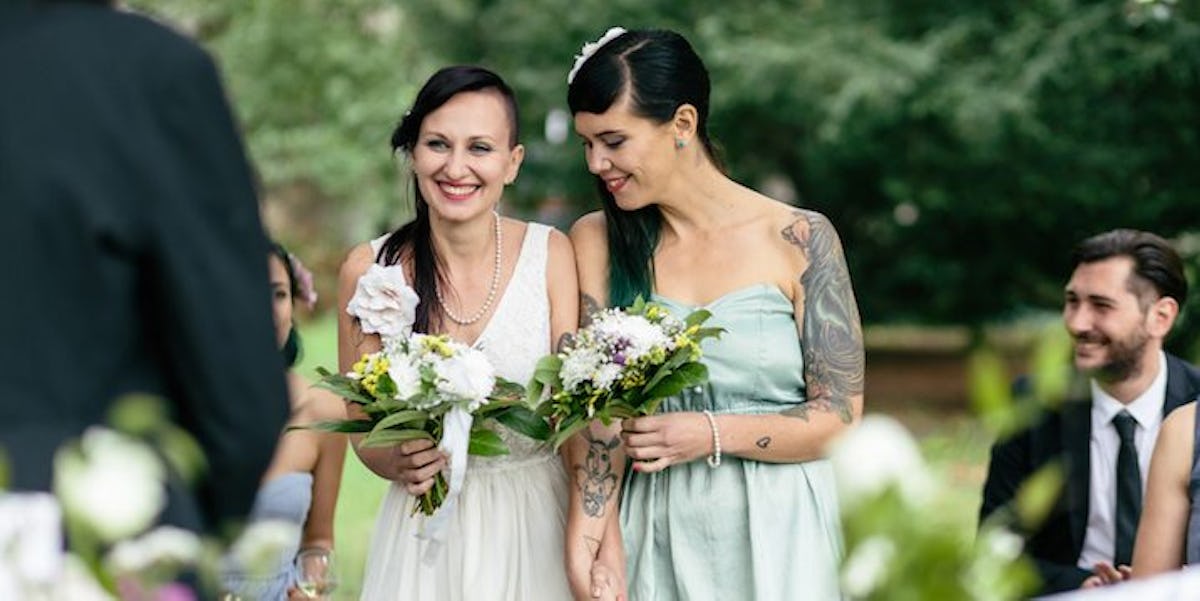 Brides Reveal The Non-Traditional Part Of Their Wedding That May Freak Guests Out
Who says your wedding needs to look, feel and flow like everybody else's wedding?
There is no rule book that lays out exactly what you have to do for your wedding to be "official." You could get married in a school bus or underwater on a scuba trip if you really wanted to.
However, most people tend to cling to the wedding ideas they see on Pinterest or Instagram, hoping their big day will fit right in with the rest of the picture-perfect weddings out there.
But not everyone wants that. Some couples are kicking the traditions to the curb and, instead, saying "I do" to things that fit their own style, personality and wedding dreams — even if it's a little more outside of the box.
Check out what these seven brides-to-be admit is the most non-traditional thing they're doing at their wedding that some guests may be freaked out by.
1. Not walking down an aisle
I'm not walking down the aisle. I don't see the point? It freaks me out to walk down a straight path and have 150 people stare at me. My ceremony will begin with everyone standing and my fiancé and I sitting. I'm trying to shake up the ceremony a bit. My guests might be confused, but I'd rather it be a comfortable thing for us since it is our wedding.
— Ramona V., 24
2. Making it all BYOB and food
I don't have rich parents, so I'm footing the bill for the wedding myself. We want to have a big wedding, but we can't afford it, so we decided to make it BYOB and food. We are doing potluck-style food, assigning dishes pre-wedding and asking everyone to bring a bottle of whatever they want to drink. We are saving thousands doing it this way. Some guests have asked if this was a joke because they have never heard of such a thing.
— Lucy W., 29
3. Doing the ceremony last
Who says it has to be ceremony first and party last? My fiancé had the idea of doing the food, drink and party first, and then, at the end of the night, we'd get married and read vows with a tiny ceremony. I thought that would be a fun way to make our wedding different. We're not telling guests 'til they get there, and I'm sure some people will be pissed they can't leave early now.
— Haley S., 28
4. Having a mediation room
I'm a big meditation and yoga freak, so I'm having a room set up in the venue with pillows on the floor for meditation. I want to encourage guests to party and chill throughout the night. I even hired a friend of mine to lead a guided meditation. My parents reminded me that people will be drunk meditating and might find it weird, but I think they will find it pretty cool maybe?
— Steffi W., 25
5. Secretly having the wedding at a bowling alley
Traditional weddings aren't my style. My fiancé and I decided to do a surprise wedding at the spot we met: a local bowling alley. We rented the place out and invited all our guests there for an 'engagement party,' but really, it's our wedding.
— Nina B., 37
6. Donating all the gifts
We already have everything we need, and we don't want gifts.  But when we told guests not to bring gifts, they all said they would anyway. We've decided to donate 100 percent of our gifts to three charities, who will be on site at the wedding collecting gifts when guests arrive. It might make people mad their gifts aren't going to us, but we warned them in advance.
— Laura D., 39
7. Wearing a tux
It's 2017, and I'm all about shaking up gender norms. So no wedding dress for me. Instead, I'm wearing a pantsuit tux. My mom has no idea. She thinks I'll be in all white. She might be the most freaked out when she sees me on the wedding day.
— Ingrid G., 30