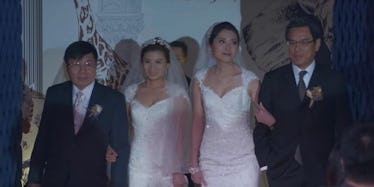 Bride's Dad Refuses To Walk Her Down Aisle For Crazy Reason, So Her Boss Does Instead
YouTube
Just because same-sex couples are able to legally get married in some countries, doesn't mean every part of the world is accepting of LGBT members.
One woman, Jennifer, and her longtime partner, Sam, still face day-to-day struggles of being an LGBT couple in Taiwan.
Not only will the country not acknowledge the pair's wedding as bride and bride, but neither will Jennifer's parents, according to Mashable
Luckily for Jennifer, though, while her parents refuse to attend the ceremony, Jennifer's co-workers at HSBC Bank have expressed their support in whatever she decides to do and whomever she decides to love.
And because Jennifer's father would not be in attendance, her boss and the bank's CEO, John Li, even offered to play a part on her big day
"CEO John was willing to walk me down the aisle, [he even] told us not to be nervous and to walk slowly," she said
It seems Jennifer's original belief that her sexuality would jeopardize her career didn't turn out to be true.
After being in a relationship with Sam for 11 years, Jennifer was hoping for a happy, family-filled ceremony to solidify their love.
But apparently, Jennifer's parents never approved of the relationship in the first place.
"My parents are strongly against it," said Jennifer. "Whenever my father sees Sam, he will push her out and tell her to get lost."
Fortunately, Jennifer's work environment is a bit more accepting. HSBC Bank has been a longtime supporter of the LGBTQ community, even placing colorful rainbow lions directly outside its Hong Kong offices, in connection with its "Celebrate Pride, Celebrate Unity" campaign.
Jennifer hopes her own confidence and efforts in getting married to Sam will encourage other LGBT community members to follow suit if their hearts desire.
"This wedding is really for the LGBTQ community," she said. "We hope our actions will encourage people and create respect among different communities."
Though I live in a country where same-sex marriage is legal, it's important not to take these relatively new freedoms for granted.
Some day, let's hope there are no more restrictions put in place when it comes to celebrating with the one you love.
Citations: Her father refused to, so woman's boss walks her down the aisle to marry her bride (Mashabe)