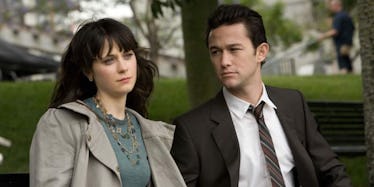 Why Breaking Up Over The Holidays Is Actually The Best Time To Do It
Dune Entertainment
Does any of this sound familiar?
"I'll do it after Thanksgiving."
"I know, but the holidays are next week."
"But who will I kiss on New Year's Eve."
"I can't be single on Valentine's Day."
If you're in a bad relationship over the holidays, you're doing yourself more harm than good. Also, if your friends were sick of hearing you talk about your bad relationship before, they are even more sick of seeing your couple's holiday posts on social media.
You are probably losing at least four months of your life to bad relationships, solely due to the holiday season. The holidays are promoted to be a time for love, and that adds a lot of pressure to spend them with someone special — key word: special.
A bad relationship may take your mind off of the fact that you aren't with someone special, but even though it may be "good enough" to keep you from feeling lonely, those four months are doing you more harm than good.
Here are the top five signs you may be using your relationship to get through the holiday season.
1. Rationalizing With Your Friends
You have to explain to your friends that you know you're in a bad relationship, but you'll handle it after the holidays. Who else is going to get you presents and go to your family's house? Trust me. Your friends — the ones who you tell all your relationship dirt to — do not appreciate your significant other being around on the holidays.
2. False Hope
After each holiday filled with family and positive energy, you think your relationship might actually be possible again. Everything is perfect after a few drinks, gifts and holiday parties. Cue the false hope — until the next fight.
3. Restarting the Cycle
When you come off the high of the last holiday, you start thinking about ending the relationship again — until the next holiday. It's still a bad relationship, but you just spent a lot of money on the holidays. You might as well stay a little longer, right?
Wrong. It's a cycle you can stop.
4. Confusing Your Family
You have to explain to your family that yes, he or she is still coming, or you pressure yourself into bringing him or her because you don't want to explain your issues. Either way, your family — and you — are very confused. It's unfair to your family, partner and even you.
5. The Other Person
You're trying to figure out who you'll bring. Yes, you've been playing the field because your relationship isn't right, but it's the holidays. You're in that strange place when it's too early to bring that person you went on a couple dates with, but it may be "wrong" to bring the person your family expects. What are you to do?
Holidays are a lot easier with a partner in crime, but that extra bit of comfort isn't worth wasting more time with someone who isn't the right fit.
A great rule of thumb is to take a few minutes trying to imagine being in the same situation with the same person next holiday season. Your partner hasn't changed. It's just another year from now.
Would you want to be in that situation? If not, then you need to end the relationship now, or at least avoid spending the holidays with them.
The holidays should be spent with people that bring you joy. Stop spending the holidays with someone for the wrong reasons, even if that means you are spending them without a significant other.
You're spending it with the right people. Your friends and family are more than enough to make this, and every holiday season to come, special.