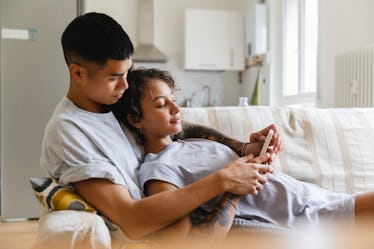 If Your SO Follows IG Models, It's Prob Fine — With This Exception
And no, you can't press "unfollow" for them…
Picture this: You're sitting next to your partner as they're scrolling through their Instagram feed when you see not one, not two, but three almost naked pictures of "Instagram models" in a span of 10 minutes. There's no right or wrong way to feel about your boyfriend following Instagram models. For some, it can be an uncomfortable situation and a total turn-off, while others don't really mind.
As with most things in relationships, it comes down to setting and respecting boundaries. Every couple is different, so every couple's approach to this sitch will vary. For example, if your partner follows these models, and you truly don't mind, then there isn't much (if anything) to really figure out. On the other hand, if knowing that they follow those accounts makes you feel uneasy, that's totally valid. "It's less about right vs. wrong, and more about each couple's preferences," Meredith Prescott, LCSW, tells Elite Daily. "There needs to be a discussion around what the boundaries are for social media as it pertains to the relationship."
The key here is communication: let your SO know how you feel and why. "Share with your partner your feelings on this," Prescott adds. "Do you feel threatened? What about this scenario makes you feel uncomfortable?" Vulnerability can be scary, but it's really the only way to approach this conversation. You may not have the power to control who your SO follows on the 'gram, but you do have the power (and responsibility) to let them know how it impacts you — whether you're fine with it or not.
No matter how you feel, chances are you aren't alone. Most people fall into three categories when it comes to what they think about who their SO follows: they don't mind at all, they definitely do mind, or their opinion changes depending on the context of each situation. Redditors debated the topic, and although they didn't reach a consensus, they brought up a lot of good points about what it means to them when their partner is following IG models. Their thoughts might help you sort how you feel.
This article was originally published on