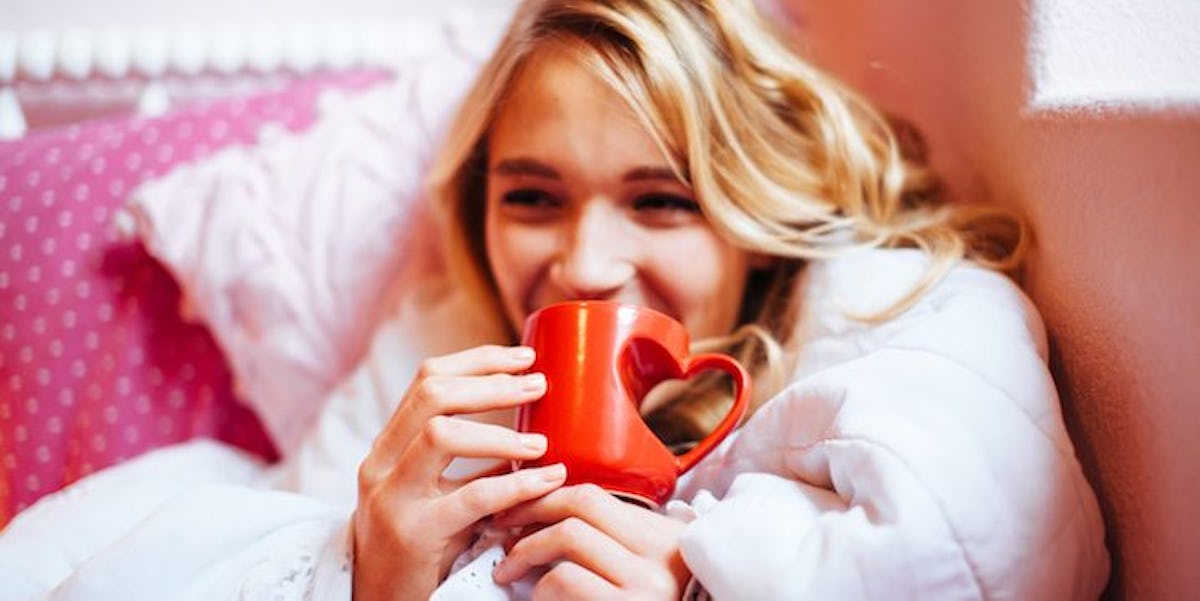 15 Boozy Valentine's Day Gifts For The SO Who Loves To Drink
Gabrielle Lutze
Whether it's IPAs, merlot, cocktails or top shelf liquor, everyone has a preference.
For Valentine's Day, skip the boring bottle and invest in something more meaningful.
Regardless of your special someone's partialities, these 15 gifts are bound to make for a memorable (or really fuzzy, no judgement) holiday:
1. Wine condoms
Protect the goods.
Shrink-to-fit technology allows them to slip snugly over almost any bottle and create a water-tight seal so you can keep your beers and spirits fresh too. And unlike regular wine stoppers, these rubbery delights don't add any extra height to your bottles so you won't end up cramming them in your fridge-door at a precarious 45° angle.
Wine Condoms, $18, Firebox
2. Drinking and drawing coloring book
Pass the markers and colored pencils.
For those who are bored of beer pong and have already drunk-dialed all of their exes, this coloring book provides page upon page of novel ways to spend a happy hour (or three). Whether you're looking for a coffee table conversation piece or a coloring companion at the bar, 'Color Me Drunk' possesses the kind of wry humor and stylish design that will make you look smart and creative (even if your friends don't have their beer goggles on yet).
Drinking and Drawing Coloring Book, $9, This is Why I'm Broke
3. The hangover patch
It's worth a try right?
The specially-formulated Bytox hangover patch replenishes the vital levels of vitamins, nutrients and antioxidants your body loses when you consume alcohol. By enhancing and restoring these nutritional levels, Bytox may reduce the physical side effects of alcohol consumption.
The Hangover Patch, 5 for $15, 10 for $28, or 50 for $130, Bytox
4. Beer jelly
Toast your breakfast with beer.
Infused with craft beers, these small-batch preserves draw their inspiration straight from the tap.
Beer Jelly, $30 (Set of 4), Uncommon Goods
5. Wine-infused salad dressing
Finally, a salad I'll actually eat.
Add a sophisticated twist to salads with this set of wine-infused, gluten-free dressings. The set of three savory preparations — Gorgonzola Pear, Roasted Garlic, and Balsamic & Olive Oil — feature complex Riesling, chardonnay, or Chianti notes.
Wine-Infused Salad Dressing, $37 (Set of 3), Uncommon Goods
6. Chambong
#Classy.
Chambong [sham-bong] noun A device used for the rapid and enhanced experience of sparkling wine / champagne consumption.
Chambong, one for $25, two for $35 and five for $50, Chambong
7. Chillsner
Keep your cold one, well, a cold one.
Simply store this set of chillers in your freezer for at least 90 minutes, then when you're ready to have a drink, take a swing and insert one into your bottle. The Chillsner's ingenious design allows you to drink and chill simultaneously, so your beer, soda, or juice will stay crisp and delicious to the final sip.
Chillsner, $17, Uncommon Goods
8. Wine-infused soap
Get clean off your buzz.
Stock these at-home bars in your shower or tub and drink in the skin soothing benefits of wine-turned soap. To craft these all-natural vegan and gluten-free soaps, Heather Swanepoel blends notes from popular red and white wine varieties with complementary scents and oils—such as citrus for 'chardonnay' and berries, plums, and apples for 'pinot noir'—resulting in a series of sublimely scented soaps that bear the distinctive shades and subtle fragrances of the vinos that inspired them
Wine Soaps (Set of 4), $28, Uncommon Goods
9. Recycled wine bottle candles
Finally, a good use for all those empty bottles.
Repurposed wine bottles are used as vessels for high-quality soy wax candles from Rewined. Handcrafted in Charleston, South Carolina, this candle's fragrance mimics the flavors and aromas of your favorite wines: Champagne, Pinot Noir, Rosè, Spiked Cider, and Wine Under The Tree.
Soy Wax Wine Bottle Candle, $29, Nordstrom
10. State beer cap map
Show off your love for beer and home state all at once.
Available in all 50 states, this beer cap map allows you to display beer bottle caps from every brewery in the state. Simply pop your beer bottle caps into the built in cap slots of the region, and it quickly becomes a beer inspired piece of art.
State Beer Cap Map, $35, Home Wet Bar
11. Self-chilling wine glasses
Cold wine or watered-down wine? Now you don't have to chose.
This set of two self-chilling wine glasses solves that age old problem with the help of two stainless steel 'dimples' that rest on the bottom of your glass. The chilling mechanism connects with a magnetic coaster to keeps your drink 'charged' cold for up to a half hour.
Self Chilling Wine Glasses (Set of 2), $50, Uncommon Goods
12. Scotch-infused toothpicks
Why didn't I think of this?
Made from sustainably forested wood, the generously sized picks are soaked in the premium scotch and then kiln dried, infusing flavors throughout the pick.
Scotch-Infused Toothpicks Gift Set (4 glass vials, 1 dozen toothpicks each), $36, Uncommon Goods
13. Mittens with built-in flask
These are way more functional than fake sunblock tubes and tampon applicators.
These Mittens keep your hands warm and store your favorite beverage. One Mitten has the secret thumb spigot to drink from, which is easily and discreetly covered back up with the thumb cover.
Mittens With Built-In Flask, $17, Jet
14. Beer aroma booster
Foamy 'til the last drop.
Using ultrasonic vibrations and two teaspoons of water, this innovative design revives the beer's head throughout the drinking experience, so you can enjoy freshly poured taste until you're ready for your next pint.
Beer Aroma Booster, $40, Uncommon Goods
15. Woodzee x Maker's Mark Sunglasses
Drink in style.
To reduce bitterness and protect the flavor of their bourbon, Maker's Mark takes great care in air-drying each oak barrel stave outdoors for nine months before making their barrels. When the whisky reaches full maturity, barrels are recycled and used to create unique, one-of-a-kind wood sunglasses.
Maker's Mark Sunglasses, $150.00 to $157.00, Woodzee