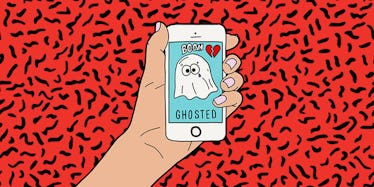 This Girl Was Ghosted By A Guy Who Introduced Her To His Mom
Kylah Benes-Trapp
Ah, ghosting. It's the dating phenomenon that happens when people are too cowardly to actually end things with the people they've been seeing, so they choose to just… disappear instead.
Ghosters are idiots. But if you've ever been ghosted, know that you're not alone.
In this weekly column, I share a tale of a time a reader was ghosted (with accompanying screenshots) so you can see the last text that was sent or words that were uttered before someone decided to disappear forever. I present to you: Boom, Ghosted.
This week, we have the story of Louisa* and the guy she was seeing for two months, Jim*. You guys, I get a lot of these stories sent over to me, but I have to say, this is one of the only ones that literally made my jaw drop.
That's mostly because in a weird, twisted way, I think Jim might have actually really liked her...
Read along, and see for yourself here:
I met a guy on Tinder, and looking back on our first date, I now realize that I ignored some major red flags. We got dinner at a sushi restaurant and spent hours talking there and then at a nearby bar. I could tell that he was too drunk to drive, and he ended up spending the night on my couch (lol). The red flags were that over the course of the date, he talked about how he had cheated on his girlfriend and was finally getting over her after two years of being broken up. He shared this info with the disclaimer that he wanted to be upfront, and that way, I would know the worst things about him off the bat. I took that as being endearing somehow. Fast-forward about two months, and we are seeing each other consistently at least two days a week, with him driving about an hour to see me. At this point, he's taken me to see the Pope and to a Frank Sinatra tribute concert, and [he] has introduced me to his mother and all of his friends. He talks about how he sees a future together and about how I've finally allowed him to get over his ex-girlfriend. Then, after I spend a weekend with him, we make the usual plans for him to come over Wednesday night. We usually text back and forth quite a lot throughout the day, so when I don't hear from him at all Monday, I get a little worried. I end up texting him Tuesday, and because it's so abnormal for us not to talk consistently, I message him on Facebook as well. I get an answer on Facebook that his phone was broken... with no other messages or explanation. I pressed him a little more to figure out what's going through his head, and finally, on Wednesday, I get a little more than I bargain for:
We went back and forth for a while after that, with me essentially telling him how I had really developed feelings for him, only for him to not respond. So, I tried again, and as you can see, I got nothing.
Now, I chose not to have sex with him because I had had a really bad breakup previously and wanted to take things slow. But, what he said completely threw me off because he had seemed so ready for a relationship. I hadn't heard from him since those last messages until about a month ago. He realized that I (justifiably) had deleted him from all social media and was offended. He also realized through our brief convo that we worked only three blocks from each other, as we had both started new jobs and asked me out for lunch as "old friends." The lunch has yet to happen, and I'm not planning on pursuing it.
In case any of you were wondering how things could possibly get worse, Louisa actually sent me an update recently:
I actually ended up seeing him out two days ago. He was all apologies and said he wanted to make amends and that he'd had never stopped liking me. I went through a family trauma last year and he talked to me about that too. He even had saved the clothes I left at his house almost a year ago. I ended up going back with him that night and we made plans to get lunch the next day, after work. He canceled the lunch plans last minute and then ghosted me again.
So, yeah...things can get worse. POOR LOUISA.
What do you guys think of this whole thing? When I first read it, my jaw literally dropped. Not being into girls after you bang them is something you might think in your deepest darkest thoughts, but it definitely isn't something you straight-up tell the girl you're trying to bang. Then, as if all of that wasn't horrible enough he takes her through the whole rollercoaster again a year later?!
But then, it got me thinking. Maybe he really did like her that much. He liked her so much that he was too scared to bang her. Maybe the problem wasn't that he wasn't into her. Maybe it was just that he was a giant wuss.
Unfortunately, that doesn't make things any better for Louisa. But, that's my take on the matter.
Do you guys see my point, though? Or, do you think he was just a giant tool who wasn't that into her? Do you maybe have an experience that's eerily similar to this one?
Let me know what you think! Comment here, and let's talk about it.
As always, if you have your own stories for "Boom, Ghosted," feel free to send them over to me here.
*Names have been changed.