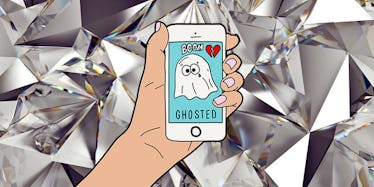 This Girl Was Ghosted By A Guy Who Said He Wanted To Marry Her One Day
Kylah Benes-Trapp/Shutterstock
Ah, ghosting. It's the dating phenomenon that happens when people are too cowardly to actually end things with the people they've been seeing, so they choose to just… disappear instead.
Ghosters are idiots. But if you've ever been ghosted, know that you're not alone.
In this weekly column, I share a tale of a time a reader was ghosted (with accompanying screenshots) so you can see the last text that was sent or words that were uttered before someone decided to disappear forever. I present to you: Boom, Ghosted.
This week we have Jane, who was ghosted TWICE by the guy who swore he wanted to marry her one day:
Jack* and I dated last fall through the winter. It was a whirlwind relationship, but we both definitely fell hard. I had been used to dating assholes who would either cheat, never communicate, weren't going places or all the above. Even though I never had that "lust" feeling for Jack, which I so often did with my boyfriends, I gave him a chance and fell for him because he communicated ALL the time, if not too much at times. He seemed to be a fairly successful photographer with a bright future, and he seemed to adore me. He would always talk about "wife-ing" me up. One day in January, literally out of nowhere and overnight, he did a complete 180 and changed. He didn't communicate for shit, he started lying about where he was and what he was doing and he just became an overall prick. He was definitely not the Jack I knew and loved. After a seriously shitty weekend, where I worried for what felt like 96 hours straight without sleeping or eating (and dropped 12 pounds as a result), I decided to confront the situation and him firsthand. I got in my car and drove to his apartment (where he had led me to believe that he wasn't going to be at all weekend since he was "working out of town"). When I got to his house, I saw his car, and of course, rage and hurt instantly consumed every ounce of my body. Since he had given me the code to his building, I walked in, knocked on his door and found him alone, looking like he had just gotten out of bed. It was disheartening, still, because this was the guy who would always text me saying he didn't like it when I wasn't in his bed. So why the fuck was I not allowed to spend that particular night with him? But also, why did he lie about working such long hours in an entirely different town for days on end? I was baffled and upset. He was upset that I had not only woken the precious prince but that he was caught in a ridiculous lie. We both yelled (mostly him) and I left. While we were yelling, I briefly remember looking down at a drawer in his TV stand and noticed my rose gold watch I loved. (Funny, because I had last left it on his kitchen sink, so I guess he felt he needed to hide it from someone.) I was too numb to grab the watch; plus, I'm sure I stupidly hoped this wasn't the end of us, and surely, I'd be back in this apartment with him again. When I left, I assumed he'd come to his senses eventually and reach out, perhaps once Sundance was over and his supposed workload died down. He never reached out. Nor did I until about two months later, simply to ask that he mail me my watch. I sent him two to three texts about the watch and the watch only. (I also ended each text with "take care" like a mature adult, when I easily could've ended it with "fuck you, your semi-small dick and your mediocre photographs.") He didn't respond to any of them. Sure, my watch definitely wasn't a Rolex, but it was mine and was a birthday present from my father. Fast forward to late July, I heard through a mutual acquaintance that Jack was having to put his dog down. This crushed me because I loved that dog. I truly cried for a week after Jack and I broke up because I realized that I wouldn't see that sweet pup again. Fuck Jack. I knew it was his loss losing me. But that dog and I had a special bond, and I was in mourning because of her. So when I heard about her impending euthanasia, I toyed around with the idea of texting him my condolences. At first, I decided against it because, ugh, he was and is such a prick! However, a few of my girl friends encouraged me to reach out, saying to me, "What could go wrong" or "What harm could it do?" And here we are today because of their advice. Thanks, bitches. Just kidding. I finally typed up a very brief text that said exactly this: "I heard through the grapevine about Leia. Despite everything that happened between us, you know how much I loved her, and I'm truly sorry for your loss. I hope you're hanging in. Take care." ....AGAIN WITH THE MATURE "TAKE CARE" BULLSHIT. Then, I honestly deleted my text from my phone because I knew he wouldn't respond. I had done my part and would mourn Leia's death in my own way, alone. So, about a half an hour later, I get THIS:
When I got this text from Jack, as sweet as it was, it made me angry. Where the fuck was this five months ago? Like the sadist he is, the bastard sent me another cute picture of the dog, which felt like a dagger in my heart. I responded with the following, and we had a conversation. He somehow convinced me to meet for a drink so he could apologize in person, and I, somehow, stupidly let him convince me.
I chose the bar, and when I got there (looking pretty damn cute, mind you), I found him at the corner table. He stood up with a huge smile on his face, while still looking pitiful somehow, and gave me a big hug. My return hug was pretty limp, and for the next few hours, I remained rather cold in my body language. I wanted to hear the truth and all of the dirty details to all of this. I wanted to see him squirm. Instead, I saw him cry. While he profusely apologized, blaming it on "fear of loving someone so perfect" (eye roll), he kept trying to touch my legs and get me to scoot closer to him, which I wouldn't do. Then, he told me he loved me, that he's never loved anyone like me, that he will never love anyone like me (or anyone again for that matter) and that he wants to marry me. After a few drinks filled with Jack's tears and pitiful, longing love for Miss Perfect Jane (more eye roll), I told him that it was late, and I had to go home. I also told him that I wasn't quite sure what to think of all of this, not to mention the fact that I honestly couldn't tell if I still had feelings for him or not. He understood and told me he'd do everything in his power to win my trust back and never lose me. He walked me to my car and gave me a quick kiss, which is all I would let him do. Earlier, he had also mentioned he would be traveling for work for the next month and was leaving the next day. I told him this was a perfect time and scenario for him to prove to me that he was serious about all of the outlandish shit he had said for the past several hours. Let me remind you that this was also how he fucked up the last time we were together: when he got "busy with work." I should've known. He hugged and kissed me again and told me he hadn't remembered ever being as happy as he was in this moment. Psshhhhh. So I drove home, and he continued to text more outlandish and annoyingly sweet things until way past my bedtime. And yet again, he promised and assured me he would do everything and anything not to lose me again.
I went to bed feeling all of the feelings: confusion, astonishment and uncertainty. I definitely missed the intellectual connection we had and always will have, but truthfully, I didn't have that lustful feeling for him like I mentioned previously. Since our brutal departure months prior, I have dated around quite a bit and realized a sexual connection is key (in my opinion, at least), and I honestly didn't have that with Jack. BUT ANYWAY. I woke up reiterating in my mind how insane all of this was, yet again. Almost immediately, Jack texted me something sweet in the morning, and it continued throughout the day. We had made tentative plans to meet for coffee sometime that evening or even the next morning since he postponed his work-trip departure until the following day. Honestly, I wasn't holding my breath. (I actually had dinner plans that night with the guy I was dating.) Eventually, Jack and I realized our schedules weren't coinciding, and he promised, yet again, to communicate every day while away because he didn't want to lose me. Fine. Great. I still went home with the other guy that night and didn't really feel guilty about it. So Jack left on his trip. He communicated off and on that day and over the next two days. I was in the middle of a jam-packed and fun weekend, so I really wasn't focusing on or expecting too much from Jack and his infamous communication skills. (Though, I did send a brief "I need a reassuring text because surely, you must be a closeted, sadistic narcissist and can't be serious about all of this" text, to which I received some reassurance.) Then, like clockwork and truly out of nowhere for seemingly no reason, he stopped communicating completely. AGAIN. It was for no fucking reason, aside from the fact that he's the worst... and a pussy. It's not like I'm the one who got all clingy, desperate and started planning a future. NO, WAIT. THAT WAS HIM. I honestly wasn't mad or really shocked, and I'm still not. The only shitty part, and truly the only reason I'm exposing his bullshit, is because I'm pissed about my watch. My father's health recently declined, and I want my watch back: my goddamn rose gold watch that serves absolutely no purpose to him or anyone else. So I texted him about it. And he still didn't respond.
So what do you guys think of all of this? Do you understand why he fell off the face of the Earth that second time? I REALLY am having a hard time figuring it out.
If you get it, please enlighten me. If not, let us know why you see her side! I'm always happy to hear any and all opinions in the comment section.
As always, if you have your own submission for "Boom, Ghosted," feel free to send them over to me at boomghosted@elitedaily.com.
*Name has been changed.