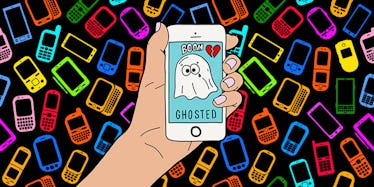 This Girl Was Ghosted By A Guy Right After They Made It Official
Kylah Benes-Trapp/Shutterstock
Ah, ghosting. It's the dating phenomenon that happens when people are too cowardly to actually end things with the people they've been seeing, so they choose to just… disappear instead.
Ghosters are idiots. But if you've ever been ghosted, know that you're not alone.
In this weekly column, I share a tale of a time a reader was ghosted (with accompanying screenshots) so you can see the last text that was sent or words that were uttered before someone decided to disappear forever. I present to you: Boom, Ghosted.
This week we have Julie* who was ghosted by the guy she spent months hooking up with just three days after they decided to finally try being in a real relationship.
Don't believe me? Read the story straight from Julie, herself, here:
I have been ghosted by the same guy about five different times over the last nine months. You would think I would learn my lesson and move on, but for some reason, I keep on going back for more. I am a single mom of two kids, and I was in a long-term, mentally-abusive relationship for most of my 20s. One day, I tagged along with a friend who was meeting a guy she was talking to, and to make it less awkward for me, he invited one of his friends. From the moment I met him, I felt a connection. He was smooth, charming and the kind of handsome that turned me into the heart-eye emoji every time I saw his stupid face. He charmed me for the next two weeks, sending me the cutest text messages, checking on me throughout the day, making date plans — the usual beginning stages of whatever we do these days. We hung out and had such good conversations. And I thought maybe this guy would be the one to break down the walls I so quickly built up after being beat down for years. Then, I slept with him after one drunken night out with mutual friends. From that moment on, I noticed him distancing himself from me. The chase was over for him. I felt so stupid for thinking he was different, that he wanted me for me and not just another notch on his bedpost. When I first confronted him about it, he turned things around on me and blamed me for "internalizing everything" and being hard on myself. After about a month and a half of drunken trysts and let downs, I saw he was lying in bed with another girl on his snapchat. The hard truth was that he just wasn't into me, but he didn't have the balls to tell me. Snapchat FTW. Fast forward about three months, when I saw him out at a bar with my friends. (I looked the best I had in months.) Of course, I turned into that stupid heart-eye emoji, and it started up again. Just as I was getting over him, I decided to go back for more. We continued this back and forth of using one another to fill some sort of void each of us had. Nine months later, I found us having a drunken conversation about how we were in love with one another and how we wanted to try to be in a relationship. It was what I had been waiting to hear from him for months. I had to leave for work in the morning, but I needed validation and wanted to make sure he remembered what he said to me. His response was "every word lady." I was giddy. I thought, maybe, we could finally make this work. Then, three days went by, and I didn't hear one word from him. After finding out he was in an accident, I reached out and, surprisingly, received a response. After offering my help, I was 'boom, ghosted.'
So what do you guys make of all this?
I think what weirds me out the most is the fact that he decided to disappear for good just three days after admitting he was in love with her. Yes, they were drunk, but he admitted to remembering everything the next day! I don't get it.
Did his feelings change after his accident? Did he use it as an excuse to disappear?
If you understand where he was coming from, comment below and ENLIGHTEN ME. If not, I want to hear about why you think this guy is a jerk for ghosting. Any and all opinions are more than welcome.
As always, if you have your own submission for "Boom, Ghosted," please feel free to send it over to me at boomghosted@elitedaily.com.
*Name has been changed.