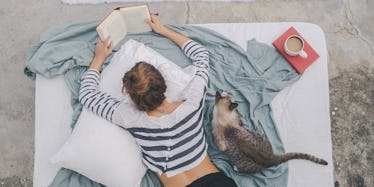 What Book You Should Read, Based On The Type Of Single Girl You Are
We can all agree being single gets a bad rap.
People think your entire life consists of one long pity party, while you wait for a partner to come along and save the day.
In reality, nothing could be further from the truth!
Singledom means you have much more free time, which turns into much more me time!
Make the most of your extra hours by getting back into books. We've picked seven of the most relatable books to appeal to all the single ladies!
For those who want to feel empowered…
Read: "Bossypants" – Tina Fey
Long before she was the reigning comedy queen of the screen, Tina Fey was a young girl who wasn't sure of her place in the world.
"Bossypants" charts her journey from self-proclaimed "vicious nerd" to "Saturday Night Live" superstar.
Brimming with hilarious anecdotes, day-to-day problems and just enough life lessons, "Bossypants" is a snapshot of female life in the 21st century.
Funny and charming – just like Tina Fey – this is the kind of book that will inspire you.
For those seeking a classic heroine…
Read: "Pride & Prejudice" – Jane Austen
Ah, to live in the world of Jane Austen's "Pride and Prejudice"! A world in which everyone is polite and charming; there are rolling green hills and nothing ever seems to happen.
Rediscover one of fiction's original female heroines with a trip down memory lane.
Written in 1813, Jane Austen's novel tells the story of Elizabeth Bennet, an unmarried member of the landed gentry in English society. She is intelligent and quick-witted, making her a fierce literary figure whom many women admire.
The story (and her tenacity) has brought readers back continually for over 200 years.
For those after a fresh start…
Read: "Spark Joy" – Marie Kondo
Sometimes a fresh start requires a clean slate. And sometimes a clean slate requires some actual cleaning.
Best-selling author Marie Kondo's in-depth, illustrated manual is a comprehensive instructional on how to declutter and organize your life.
Including everything from flawless filing systems, to the best ways to clean a bathroom, "Spark Joy" is a revelation.
For those who don't give a damn…
Read: "The Life-Changing Magic of Not Giving a F*ck" – Sarah Knight
Sick of pretending to like your co-workers? Can no longer feign enthusiasm at family gatherings? Happy to call time on the battle for a"bikini body"?
Then this is the book for you.
Partly practical and partly parody, Sarah Knight's war on obligations is a smile-inducing page turner that will give you the strength to shed all those unwanted feelings.
Pay close attention to her famous "NotSorry" method, a life-changing tactic that will leave you feeling stronger than ever.
For those still wondering…
Read: "He's Just Not That Into You" – Greg Behrendt & Liz Tuccillo
Any book based on an episode of "Sex and The City" is good enough to read, but this little doozy is a definite.
Together Tuccillo and Behrendt dole out ruthless romance advice that will speak to even the most doe-eyed damsel.
If he's not calling, he's not that into you. If he's not opening up, he's not that into you!
Once you've finished reading, check out the movie too. It hit the big screens in 2009 and was a worldwide phenomenon.
For those who need a laugh and a lesson…
Read: "Not that Kind of Girl" – Lena Dunham
The creator of "Girls" and all-round legendary lady, Lena Dunham has quickly become the poster gal for this day and age.
"Not That Kind of Girl" shows us the lessons Lena learned along the way. Covering everything from falling in love to body battles, a career crisis and being an outsider, this book is basically a must-read for modern women.
Expect raw emotion, plenty of laughs and maybe a few tears.
For those who need inspiration…
Read: "#GirlBoss" – Sophia Amoruso
If you're at a career crossroads and not sure what your next step is, then the first you thing you should do is buy this book.
Amoruso's transformation from confused young lady to stylish CEO is nothing short of breathtaking. Inspiring without being patronizing, "#GirlBoss" is guaranteed to get your life on track.