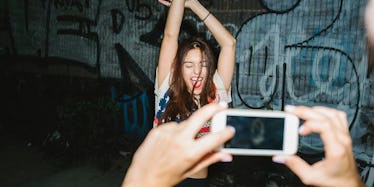 These Are The Kinds Of Tinder Profile Pictures Guys Are Attracted To The Most
To be very clear: Looks aren't everything. To be very real: On Tinder, your profile picture is almost everything. It's what your potential partner is going to swipe left or right on after maybe three seconds of contemplation, so you need to put your best Tinder profile picture forward.
This doesn't mean you should photoshop yourself until you are Kardashian-level airbrushed. In fact, it means you should do just the opposite. You want to show as much of your authentic self as possible within one tiny rectangle.
If you want to maximize your chances of matching with that Riz Ahmed lookalike so you can eventually get married and have all of the talented, beautiful babies, it's simple: Choose a really great picture. (Yeah, not simple at all.) So what makes a really good picture?
These are the Tinder profile pictures guys are attracted according to the men of Reddit and one real one, too. (Disclaimer: I was not able to get Riz Ahmed's opinion on the matter.)
This guy says pick an action shot, Wonder Woman.
This guy thinks you should cheese it up.
This kind of rude dude doesn't want to be deceived.
This guy is less shallow, and still just wants you to look like you do IRL.
This guy wants you to show off your gorgeous eyeballs... unless they're drunk eyeballs.
This guy thinks you should feature your (or anyone's) pup.
And because the dudes of Reddit started bumming me out with their needs and wants and body shaming, I also asked a real life man friend. He said that it is pretty simple: A smile is key to getting a swipe right. "A weird amount of girls had no pictures with them smiling," he said. "Baby girl, I'm hilarious. You're gonna need to be ready for the funny."
He also mentioned he didn't like very posed Instagram influencer-wannabe photos: "Nothing obviously posed. Especially as, if things went well, it would eventually mean ME being the one taking your posey photos." So dudes don't want to end up being an Instagram husband. Got it.
Here's my takeaway after asking men for their opinions on what makes a good Tinder photo: Real, kind guys are going to swipe you if your vibe fits with theirs. Think about it. Some women would go crazy over a guy on Tinder with his cat in all of his profile pictures. I, on the other hand, would feel sick to my stomach.
Everyone has different taste, so be authentic, tuck in your cleavage, and smile. But also, leave your cleavage out if that fits your life vibes. My favorite Instagram account @officialseanpenn sells tote bags that say "be a slut, do whatever you want" and that's how I feel about choosing a Tinder profile picture.
Forget all the noise and just be you, because the dudes out there seem to have a million different opinions anyway.