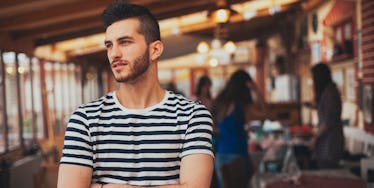 The Return of the Badass Gentleman: Traditional Touches For The Modern Man
What exactly does it mean to be a gentleman? Often, men forget being a gentleman doesn't necessarily mean calling it quits on being a fearless badass.
We're all so obsessed with our overall image that "doing too much" for someone else might make us look weak.
Or at least that's what we'd like to believe.
However, that's not always the case!
Believe it or not, there are a few ways to become a badass gentleman.
You know, a man that can make his presence known in a room full of spectators without having to get the words "Alpha Male" tattooed across his forehead.
Implement these 15 key points into your daily routine and she'll consider you James Bond material.
15. Be a man of your word.
You'd be incredibly surprised at how many self-proclaimed "gentlemen" out there don't do what they say they're going to. No one likes a man known for his uncanny ability to hand out empty promises.
If you say you're going to be there at 8 pm, be there at 8 pm. Make commitments, not promises.
The first step to completing your transition from badass to badass gentleman is to keep your word!
14. Take responsibility for you.
This is pretty broad, but it's because it applies to just about anything you're involved in.
Whether you're picking up after yourself at dinner, or you failed to pull through on a past-due project at work, taking full responsibility for your own actions – and for yourself in general – is key.
No one likes a man who can't own up to his sh*t.
13. Don't be shy. Ever.
They say the loudest voice in the room usually stems from the weakest person. But being the quietest and most reserved could also set up a true gentleman for a world of failure.
Along with many other traits, being a gentleman is about connecting and never fearing confrontation or interaction.
This doesn't mean you need to get into bar fights every weekend, but it does mean you should always look to cut out the middle man and meet new people you could see yourself working with.
12. Develop your own sense of personal style.
Separate yourself from the rest by simply being yourself. Find a series of presentable looks that best fit you. There's no reason you should copy another man.
It just doesn't make any sense and quite frankly, you'd be wasting your time.
Aside from all of the necessary traits and characteristics you need to develop, your physical appearance should be perhaps one of the most memorable things about you – especially for the women in your life!
11. Remember, cleanliness is key.
Even if you're not trying to achieve success as badass gentleman, you should be clean.
Cleanliness is the key to getting just about anyone to want to associate themselves with you. If you're a badass gentleman, you're constantly on the move from the office, to the gym and the airport.
Remember to keep yourself well-groomed and ready to take on the world.
Everyone will thank you later!
10. Say what you mean. Mean what you say.
Being a man of your word and saying only what you mean go hand-in-hand. We all have emotions; we've all experienced disagreement and, more importantly, we're all human.
Sure, rationality can be difficult when you're not seeing eye-to-eye with someone and suppressing your true emotions only leads to unwanted stress, but there are ways to handle these situations.
Whether you're trying to get your point across clearly or you're simply stating your point of view, make sure you actually mean it.
A true gentleman is taken as seriously as he takes himself!
9. Act your age, not your necktie measurements.
If there was ever a dead giveaway you might not be the man you say you are, it's probably because you're not acting like the man you say you are.
Things you did as a college freshman shouldn't make it into your current life. The change starts with reinventing thought-process.
Everyone can stand to change for the better, even if it means ditching your nasty cursing habit or the fact you can't hold your liquor and behave.
Whatever your past flaws might've been, becoming a badass gentleman requires welcoming change now.
8. Know where you're going.
You're the captain. Having a good sense of direction makes all the difference. No one wants to hang out with a man without a plan. At the end of the day, they'd just be setting themselves up for ultimate failure.
You want to know exactly where you're going. This doesn't necessarily apply to knowing where you're going after dinner, but in life.
Where do you see yourself in the next five years? What are your goals and how will you get there?
The answer to these questions unlocks genuine certainty and self-awareness.
Oh, and making a reservation for two never hurt anyone!
7. Be cordial. Always.
Let's face it – it's super tough to put on a smile on around certain people. Why? Well, it could simply be their overbearing presence or just the fact you're not "in the mood" for them.
Regardless, a true gentleman always offers a firm handshake and a warm greeting, no matter what. Doing this will never result in you being considered less of a man.
If anything, it strengthens your claim of being the quintessential badass you believe you are.
In short: be nice without being fake!
6. Keep your head up.
Good posture matters, but it's not what we're referring to in this case.
Part of being a man is accepting failure as a lesson learned to accomplish bigger goals. It'll hurt your image as a badass gentleman if you accept defeat and do nothing in the future to prevent it from happening twice.
Learn from your mistakes, reevaluate your goals and rebuild your confidence – it's the only thing you've got!
5. Listen to her.
Often, men like to think being a true gentleman means they have to take over and control every aspect of everything. This thought process has the potential to become a major problem in relationships.
You should always hear out your significant other, find a way to meet in the middle and make sure both sides are content with the outcome before you continue.
She'll love you for it!
Warning: Doing this may result in an overabundance of #MCM Instagram posts.
4. Revive chivalry every chance you get.
"Chivalry is dead," they said.
For a man like yourself, consider this your main objective for as long as you live: Reviving it.
This doesn't only apply to holding doors open for old ladies and throwing your Saint Laurent raincoat over a puddle so your girlfriend can safely cross the intersection.
Good manners are embedded into your social makeup. You'll be known for your infectious generosity and courtesy.
And more importantly, you smell like the 14th century.
Just kidding, but seriously, ask her if she wants that last slice of pizza before you take it.
3. Be comfortable in your own shoes.
The modern man must always remember: If you can't be yourself, expect to achieve nothing.
If you're not comfortable with being you, no one will be comfortable with you being you.
A common misconception about transitioning from a man to a gentleman is you must become a new person entirely. False. It's about revamping your current lifestyle habits for a better tomorrow.
However, you should only really commit to being a gentleman if it's what you want to be known for. After all, those who know the "old" you will notice the differences substantially.
You shouldn't be on the court if you can't play ball.
2. Think for yourself.
Don't be a walking thought bubble full of another man's thoughts.
Hold and honor your own opinions. The only thing worse than not thinking for yourself is not having a brain and quite frankly, they're the same thing.
If the world can't count on you to form your own stances and opinions, what exactly would you be contributing?
1. Care.
Step one to being a true gentleman is the most obvious of them all. Just care.
If you care enough, most of these tips and tricks will come naturally.