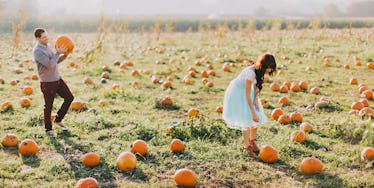 10 Basic AF Fall Activities You're Definitely Going To Drag Your Boyfriend To
Dylan M Howell Photography
You guys, fall is officially here, and there's SO MUCH I want to do.
I can feel that ~fall breeze~ flow through my hair as I walk down the street. As I stride, I can hear the leaves crunch under my boots. There are so many pumpkin-related things going on.
If only I had a boyfriend to do all these pumpkin-related things with...
OK, so I may be single AF, but for all my coupled-up ladies out there, you know you're going to drag your boyfriend to all those basic as hell fall activities that make fall so, well, fall-y.
Who cares if bae doesn't want to spend his Sunday at some pumpkin patch because he'd rather be chilling with his boys? You have to do it for the Instagram. And Snapchat. And whatever other basic social media platform is about to explode.
And don't feel bad about it, either. There's no harm in channeling your inner basic.
Here are 10 basic AF fall activities you're definitely going to drag bae to. Because what would fall (or your relationship) be without them?
Pumpkin Picking
Don't forget to take a selfie with the biggest one.
Pumpkin Carving
Carve your names with a heart, and then put that shit on Instagram.
Pumpkin Beer Tasting
Seasonal beer > regular beer. Always.
Starbucks For Pumpkin Spice Lattes
Because that's that real shit.
Apple Picking
For when bae inevitably gets sick of pumpkins.
Haunted Houses
So you can hold his hand when monsters pop out.
Haunted Hayrides
More hand holding!
Costume Parties
You know you've been planning a couple's costume since last Halloween.
Football Games
For the ~experience~.
Flannel Shopping
So you guys can match.
Sorry, bae!