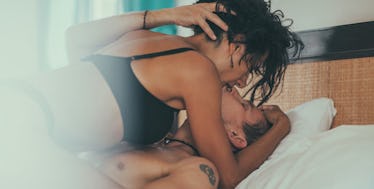 Is It Over Yet? 37 Thoughts A Girl Has During A Bad One-Night Stand
You don't have to kiss many frogs before one turns into Prince Charming.
Actually, Prince Charming often transforms into a frog the moment you two get down and dirty together.
He seemed to be so perfect during the date, but the moment you get to it, Prince Charming suddenly has left the bedroom.
A one-night stand is often a one-night stand for a reason.
As 20-something singles, we may have sh*t loads of hook-up apps, but it's still a major challenge to find people proper enough to mate with.
Asking for a great, sexual chemistry and a wonderful experience with one persona is apparently too much.
When I ended my serious relationship at the age of 20 (to hopefully experience my personal, sexual revolution), I wish someone had warned me about the pitfalls of casual encounters.
"Be careful, young lady. From now on, 90 percent of your satisfying sexual experiences will be performed solo."
We all have to admit a one-night stand is mainly labeled as such because the sex simply isn't great.
So, here's what women really think during a lousy one-night stand:
1. "Oh my God, it really looks tiny. But maybe I'm not seeing clearly."
2. "Oh no, it really is tiny."
3. "Since when did condoms come in that size?"
4. "Is it in yet?"
5. "I'll moan a little louder so he'll cum quicker."
6. "He really doesn't know how to position his body. How is it possible he doesn't know how to f*ck?"
7 ."Is it bad for him, too?"
8. "Didn't he feel it not go in easily?"
9. "I'm so dry. I hope I won't get a thrush from this."
10. "Let's just go doggy-style. No man is bad at doggy style!"
11. "I'm not excited enough to do all the work on top. Thank God it counts as exercise!"
12. "You did not just put your hands there!"
13, "What did Depeche Mode mean about 'Enjoy The Silence'? This silence is killing me!"
14. "Ouch! My hair…"
15. "What are these sounds?"
16. "Why do you think I'm willing to suck your dick, when you haven't even gone down on me yet?"
17. "Pretend you want more penetration. Do anything to make him stop giving you such horrible head!"
18. "Just roll over and pretend you're sleeping."
19. "What time is it? How much sleep can I still get once this is over?"
20. "I'm too tired to go home. F*ck, now I have to wake up next to him."
21. "Just because it's big, it doesn't mean it will do the work for you!"
22. "Ah, this is so sad. Pretend you're enjoying so you don't destroy his ego."
23. "Why did I shave for this?"
24. "Did I take out my laundry?"
25. "How old was he again, 30? Could it be possible he's still a virgin?"
26. "When was the last time you took a shower? There's no way I'm getting my face anywhere near down under!"
27. "Could that little spot be an STD?"
28. "He's sweating like a pig. Please, get it off me!"
29. "What are you trying to achieve here? Do you really think this will make me cum?"
30. "Is he worth the effort trying to teach him something?"
31. "Do I send him home politely, or simply kick him out after?"
32. "I could've been home watching Netflix."
33. "Is it rude to finish myself off?"
34. "Pretend it's Ryan Reynolds."
35. "Will it be too late to watch the final episode of 'Breaking Bad' after this?"
36. "Will he brag about this nightmare tomorrow?"
37. "Did I set my alarm?"