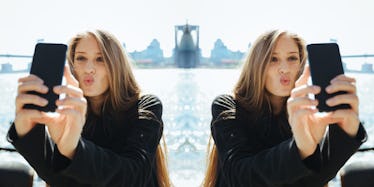 The Most Awkward Forms of Communication Ranked From Least To Most Awk
The beginning stages of a relationship are always awkward. But that's part of their beauty, right? Two extremely nervous people come together to try to pretend that they are, in fact, very, very cool.
This magnificently awkward part of your romantic timeline used to take place IRL or maybe sometimes on the phone. But our modern age has #blessed us with plenty of new venues for awkward interactions with potential partners.
So here they are: 17 forms of communication, ranked from the least to most awkward.
17. Texting ("read receipts" turned off)
Ah, the lowest-stakes form of communication. He can forget to answer your text, and you can take comfort in the fact that it may be because he unexpectedly died.
16. IRL conversations
Sure, real-life conversations can be a little nerve-racking, but you usually have time to mentally prepare yourself for them.
Plus, if a good old-fashioned in-person conversation (aka A DATE) is excessively awkward, the two of you probably have some bigger fish to fry here.
15. Back-and-forth Snapchatting
Again, pretty low stakes here. Much like texting without read receipts, either one of you can abruptly stop responding with no real explanation, and it won't be taken too personally.
Things do take a turn for the awkward when you find yourself faced with a zit the size of Mount Everest that you strategically manage to cover every time with your clever captions.
14. Viber
Where is he, Tibet? Why the f*ck are you guys Vibering?
If he actually is in Tibet (or any other foreign country where regular texting is not an option), I guess this is actually pretty ingenious. So, like, Viber on!
13. Texting (read receipts on)
Awkward on every level. Either I know he read my text and is just blatantly choosing not to respond, or he knows I read his text and am choosing not to respond.
The only way to avoid either of us feeling like horse shit would be to keep this conversation going until the end of time, which turns it into a whole other kind of awkward, ugly beast: the dreaded forced conversation (complete with lots and lots of "hahas").
12. Facebook chat
Why is this person reaching out to you via Facebook? The only logical explanation is that he does not have your phone number, which I am going to go ahead and assume is because you did not give it to him... which I am going to assume is because you did not want him to have it.
Not to mention the stinking "seen" feature provides us with the same conundrum as read receipts. So, like, F*CK THAT NOISE.
11. Instagram comment
HOW ARE WE SUPPOSED TO HAVE A CONVERSATION ON HERE?! Nothing simultaneously flatters and infuriates me more than someone tagging me in a funny post on Instagram.
Sweet of you to think of me but, like, what am I supposed to do in response? Text you about it? DM you? Tag you back and be like "lol"??? WHAT IS THE PROPER ETIQUETTE HERE!?!
10. The Snapchat chat function
Ah -- a special form of messaging reserved only for conversations so incredibly awkward and shameful that you would genuinely prefer they self-destruct in a few seconds.
That is, unless you save them by clicking on them... but in that case, why aren't you regular-texting?
9. The phone call
I get that a phone call should not be that much more awkward than an in-person conversation, but the difference here is that you have no time to prepare.
You are suddenly blindsided with this phone call and then, wait, OMG YOU MEAN WE ARE GOING TO HAVE A CONVERSATION, AND I CAN'T SEND SCREENSHOTS OF WHAT YOU SAY TO ALL OF MY FRIENDS TO CAREFULLY CRAFT THE PERFECT RESPONSE THAT I WILL PROCEED TO PURPOSEFULLY SEND AT EXACTLY DOUBLE YOUR RESPONSE TIME!?!??!!?!!?!!
Excuse me while I breathe into a paper bag for 45 minutes straight.
8. Dating-app convo gone too far
Things take a real turn for the awkward in your conversation with Joe W., 24, when you know all about his relationship with his mother and his secret love of "Grey's Anatomy," but are still unclear on his last name and phone number.
7. Email
First and foremost, why does he have your email? Is he your boss? Is he your client? Is he Bank of America? Is he your DAD??
Although it would be pretty swag if you were really just dating Bank of America, I'm going to go ahead and assume he is none of the above.
You should never be communicating with someone you may or may not be boinking in a forum where "regards" is a socially acceptable way to sign off on a conversation.
So let's go ahead and tell him to GTFO of your Gmail.
6. Gchat
This is MORE awkward than emailing only because you clearly have given him your email address already, and you've started Gchatting after your superbly awkward email exchange.
It's just, like... why?
5. LinkedIn Connect
Last I checked, PEOPLE YOU F*CK AREN'T PROFESSIONAL CONNECTIONS. Where's the check box for that one?
4. Twitter DM
There is literally no need for anybody who has your telephone number to direct message you on Twitter. Like, are you Taylor Swift, and is he a crazed fan? No? Didn't think so.
3. Skype
This is not 2003. Skype dates are no longer a thing. Unless this is a job interview, you should probably GTFO of Skype.
2. Snapchat video
It's already a red flag that one of you knows that this exists and sees it as a viable communication option.
1. FaceTime
Like tantric sex or holding hands for prolonged periods of time, FaceTiming is EXTREMELY intimate. There is nothing "casual" about a prospective romantic interest seeing your face up-close and personal in HD quality.