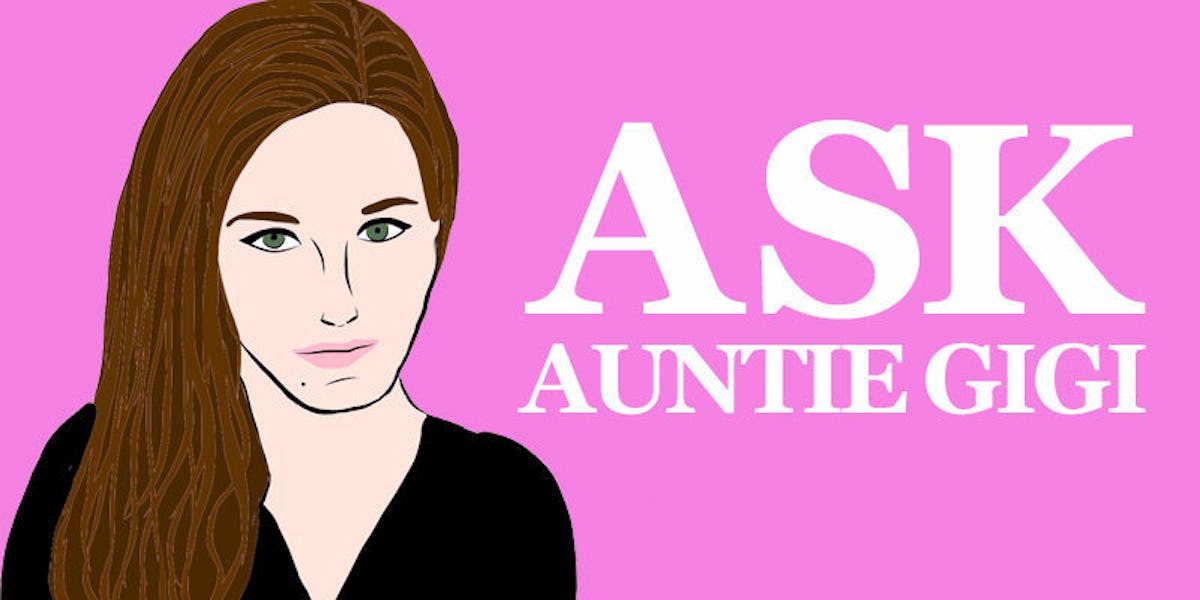 Here's How To Convince Your Girlfriend To Try Butt Stuff
Celine Rahman
Welcome to Ask Auntie Gigi, a weekly advice column where Elite Daily senior sex writer Gigi Engle answers your most burning sex questions.
Sexual health and wellness is extremely important in healthy relationships. But it's often a taboo topic. Auntie Gigi is on a mission to overcome the stigma and help you become the most informed, sexually knowledgeable person you can be.
We'll be exploring everything from anal and threesomes to sex toys and foreplay. No subject is too taboo. No subject is taboo PERIOD. This is a forum to explore your deepest desires and have your questions answered fully and with plenty of sass.
Information is the key to sexual satisfaction and Auntie Gigi is here to help!
Question from the reader:
Hi Gigi,
Things have gotten very blah in the bedroom with my girlfriend for the last few months. I have tried pegging and other anal play before and found it enjoyable. I brought it up to my girlfriend a while back, and she was more than a little put off by it.
Any suggestions on how to open her eyes? I should mention she doesn't like me playing with her butt, either.
— I
Hi I,
Thanks for reaching out. I'm happy to help with this one, as anal sex and all the joyous things that surround it are my specialty. Butt stuff is my bread and butter! So, you're in good hands.
That's rad that you've tried pegging. That is very adventurous of you! Most guys aren't as open with their interest in having their butts involved in sex, so good for you. Seriously.
Anal stimulation really is enjoyable for both men and women. I can understand your wanting to try it. If your girlfriend isn't down, obviously that is a problem. If you want her to get on board with it, the important thing is to be completely open and communicative about it. I just wrote an article on stimulating your boyfriend's prostate. I would suggest sending it to her.
Don't tell her that things are stale in the bedroom. You'll only end up pissing her off and making her close up emotionally. Instead, bridge the subject on neutral territory. Say that you're interested in trying new things with her because you think she's so sexy, and the thought of playing out these fantasies turns you on. Women like to be told we're hot and desirable. If you make her feel good about herself, she'll be more receptive to your suggestions.
When you bring it up, tell her this is a vulnerable subject for you, and you'd appreciate her understanding and trying to be open-minded. I'd start by suggesting trying plain old anal sex. If she denies that, you can say you'll try it if she tries it. Extremes sometimes work, but not always. I'll let you use your judgement on this. Since you mentioned she doesn't like doing anal stuff, this might not be your best bet.
Since you're into anal stimulation on your end, tell her why it feels good and what you've liked about it in the past. Show her some literature that confirms this. Make sure she knows that she is, in fact, not being asked to try something that is totally absurd and ridiculous. You're not asking to pour hot wax on her vagina, you're just interested in trying some butt play.
The thing is that this is all becoming very mainstream and normal. Everyone is trying new things. Everyone is into the booty these days.
Another tip: Tell her she can't possibly know she doesn't like it if she has never tried it. I'm of the sound persuasion that you should try everything as least once. If you don't like it, OK. But if you don't try, you could be missing out on the greatest sex of your life!
Maybe she won't like it, maybe she will. But I'm sure she'll love the power exchange when pegging you. It's very thrilling.
If your sex life is getting stale and you really love someone, you should want to do everything in your power to keep the lust alive. Sex is an integral part of a healthy relationship, and having erotic fun is part of what keeps couples happy for the long haul.
I'm happy you're so committed to keeping things hot between you and your main lady.
I hope this helps!
Yours in lust, Xoxo Auntie Gigi
Check out Gigi's weekly segment on Elite Daily's Facebook Live, Tuesdays at 4pm EST.
For sex questions and inquires, please email askgigi@elitedaily.com
Be sure to sign up for Gigi's newsletter for the latest in love and sex.