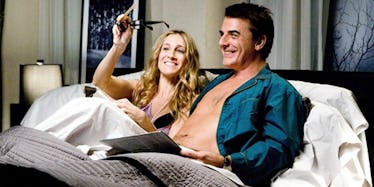 The 8-Year Rule: Why You Shouldn't Date Anyone 8 Years Older Or Younger Than You
Warner Bros. Pictures
In life, as in dating, there are few absolutes.
For example, generally, you try to avoid people with two first names or those who abbreviate the word probably as "probs." But you never know; that one awful abbreviator could be your soulmate.
So, I'm proposing this "8-year rule" in dating as an absolute.
The 8-year rule states that you shouldn't date anyone outside of an 8-year age range. I am aware there are possibilities where two people can successfully date with an age gap of more than eight years. It can happen. I just won't try it any more.
I've dated (or tried to date) women who are older, younger and, if you'll believe it, exactly the same age as I am. (Seriously, she was born on the same day and same year. If that's not an easy conversation opener, I truly don't know what is.)
But after all sorts of successes and failures with women, as time has gone on, I've found at least common failure: a massive age gap.
I'm, by no means, the most mature 30-year-old dude you're going to meet, and I'm not insinuating that all younger women are flighty or immature.
There's a reason we tend to date people who are closer in age.
But let's be fair: There's a reason we tend to date people who are closer in age.
So, if something seems too good to be true (read: he or she is too hot for you by about eight years), it probably is. Here are four problems you'll likely run into if you break the 8-year rule:
1. They don't understand your references.
I once went out with a woman who was under the impression that Lauryn Hill was made famous by being in "Sister Act 2."
Now, there are a few reactions you can have to this.
One is, "Well, it was a good movie." Two is, "God, people already forgot about The Fugees, huh?" And finally, "They made a second 'Sister Act'?" If your answer is either two or three, then we're on the same page.
To be clear, not knowing who The Fugees are or simply missing someone's references doesn't make you a bad person. It makes you ignorant of great music, and definitely not a match.
2. They still rely on their parents for WAY too much.
Don't get me wrong; my dad still plays a huge role in my life, and I can't imagine much outside of impending senility will change that. But there's a difference between playing a role and codependence.
Here's an example of what I'm talking about, from a date I recently went on with a 22-year-old girl:
In discussing how she planned on getting home after the date, her answer was simply, "Oh, my dad picks me up from the train station after work every day."
There's a difference between playing a role and codependence.
Her reason for this wasn't that she didn't have a car or that she was saving money. It was that she truly wanted to be able to drink as much as she desired any and every day, on a whim.
From that story, I deduced she was either irresponsible or the product of parents who let her do whatever she wanted — or both.
3. They may not live on their own yet.
Listen, if I could do it over again, I may not have moved out of my parents' house as soon as I did. I could've saved a ton more money, and essentially, my social life as it is wouldn't be any different.
So to be clear, I'm not dumping on anyone who still lives with their folks.
However, I am saying that if you're 30 and dating someone who lives with their parents… maybe you need to reevaluate things.
4. They communicate poorly.
This one is going to make me sound old AF, and I'm OK with that.
It starts with how frequently they text, how surprised they are by phone calls as a mode of communication and how irresponsibly they handle getting back to people in a timely, appropriate fashion.
And naturally, it concludes with something like what I've experienced several times — a date that lasts no more than 45 minutes and feels like an absolute drag for the final 20.
On these dates, decent — heck, I'd take simply flowing — conversation is hard to come by. Once you've run out of the stock chat options ("How many siblings do you have? What do you think of Bumble? Have you marathoned any shows lately?"), there's very little left and you both know it.
However, it's difficult to simply be honest and have one of you say, "This is really not going well and that's neither of our faults. Instead of waiting for the check to come and delaying this longer, I'm ending it now. Good evening, and good luck."
You don't say that. You think it, but you say nothing.
Conversation is a two-way street, not simply one person asking and the other answering.  There's give and take, flow, back and forth, interruptions. With some of these younger women, the most interesting thing they have to share with you is something from their friends' Instagram or, God forbid, Snapchat.
These women aren't actually uninterested or uninteresting; they simply haven't had to learn how to communicate with real people in real situations based on the world they grew up in.
But what is a first date other than a test of communication between two strangers who are tossing around the idea of potentially engaging in sexual and emotional trust with the other?
So can you date outside of the 8-year range? Sure, you can. But just because you can also try FarmersOnly.com if you're not technically a farmer, doesn't mean it's a good idea.
For these reasons, I beg of you to stay within the 8-year rule. That really hot girl just out of college may seem alluring, but just trust me and play the odds.