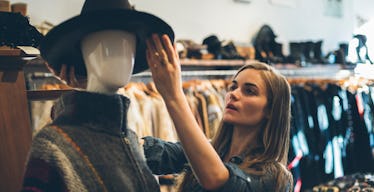 8 Not-So-Cliché Ways To Spend Your Valentine's Day WIth Your Love
Stocksy
As Hallmark's most lucrative holiday peeks its head around the corner, those only now attempting to make a reservation at their local five-star restaurant may be out of luck.
After calling over six restaurants well in advance, "The earliest time I can seat two for dinner on February 14th is 11:30 pm," may be the most promising response you've heard yet.
But, who says Valentine's Day has to be celebrated in a stuffy restaurant with a pretentious foreign menu?
After being seated three feet adjacent to another hopeful couple, desperate for their own bit of privacy, I couldn't help but wonder when this forced ambiance became an "intimate" Valentine's Day tradition.
Let's take this year to revamp the ways in which we properly appreciate the ones we love. How, you ask?
Loosen your expectations from an evening inundated with painful stilettos and entrees you can hardly pronounce. It'll make your Valentine's experience incomparable to the rest.
1. Drag Your Boyfriend To A Concert
There are few experiences more intimate than hearing a live instrument play the chords of your all-time favorite song.
Whether you're one in a thousand couples swaying side-to-side, engulfed in a crowd of Coldplay fans (aka, hopeful romantics), or you're attempting to dance in your seat to your favorite Drake jam (also a venue of hopeful romantics), your experience will be much more memorable than just another dinner.
2. Cook Your Own Damn Meal
For those of us who have set fire to the kitchen more than once, this option may seem more hazardous than enjoyable.
However, cooking a meal together is less about the quality of the end product and more about being able to make it together.
Although, I would suggest keeping easy access to your favorite takeout. You know, just in case.
3. Sing Out Your Feelings
Inspired by Lorelai Gilmore drunk-serenading Luke with "I Will Always Love You," a karaoke bar can surprisingly bring to light feelings you can't quite voice yourself.
For an atmosphere full of good vibes and off-key notes, a karaoke evening can be both amusing and intimate.
4. Who Says You Can't Have A Good Meal In Bed?
Why leave your bed when you can just eat in it? Order in from the restaurant you originally would have been cramped into and enjoy a three-course meal in the comfort of your own sheets.
5. Spa-cation
For an oasis of relaxation, soothing smells and people who talk much quieter than you, a spa-cation can be the stress reliever to which you've both been looking forward.
Leave your iPhones, iPads and iPods (anything "i," really) at home and experience what "just us two" is really all about. This would be the ideal opportunity to distance yourselves from everyday stressors.
6. Skiing, But For Coordinated Couples Only
If you struggle to get down the slopes in one piece, this Valentine's Day idea may not be for you.
However, if you're able to somewhat safely trek down a mountain in skis, your sports-loving boyfriend will very much appreciate a day of winter activities.
7. What's Valentine's Day Without The Wine?
Although most women won't need heavy persuasion to spend an evening tasting wine, our partners may crave something a bit more "masculine."
An alternative to wine tasting that will still guarantee a buzz is a booze tasting.
8. Dinner In A Sombrero
Although you're most likely wondering how this isn't a contradiction to avoiding restaurants, there is somewhat of a charm to margarita pitchers and sombrero-wearing waiters.
Rather than the formality of an upscale dining venue, a carefree, tequila-imbibing atmosphere almost always accompanies Mexican cuisine.