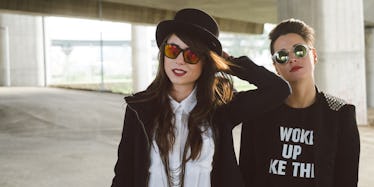 8 Fun Date Ideas For A Change Of Pace This Spring
Stocksy
At last, the months of hibernation are over! Your mornings won't be delayed by snow cleaning, your massive coat won't hide your outfits and best of all, you can finally roam the streets hand-in-hand with a cute date -- sans gloves.
Spring is here and the weather can no longer keep us captive. To jumpstart the warmer weather, here is a list of adventurous activities to impress your date or even your friends. Gentlemen, enough with the conventional "dinner and a movie" dates; it's time to get creative.
Playing Tourist
After living in a city for many years, we start taking many of its benefits for granted. Choose a few tourist attractions you've never taken the time to explore; draw up a map and walk from one activity to the next.
You will be surprised by how many things you will discover: interesting historical facts, small streets you've never seen or even quaint restaurants you've never tried.
After a day of sightseeing, you and your date will feel like you just went on a vacation.
Bike Riding or Hiking
Winter is too cold and summer is too hot. It seems like we're never satisfied, but spring provides the perfect temperature to enjoy the outdoors.
Find a suitable trail for biking or hiking, preferably one that ends with a great view. Enjoy an energetic workout and surprise your date with a picnic at the end of the trip.
Baseball Game
Baseball is finally back in season, so take her out to a ball game! If your city has a team, spend the day drinking beer in the stands.
Otherwise, if you are cursed (like us Montrealers), be creative and find an elementary or high school game nearby. Cheer for some random kids and just have fun being silly. Your date will love the laid-back vibe.
Farmer's Market
Find out your date's favorite foods and head on over to the closest farmer's market together. You will find great local produce that is both fresh and nutritious.
Spend the rest of the day cooking up a storm. You will impress her with your skills in the kitchen, or maybe vice versa! (Sorry, boys, making macaroni and cheese out of a box does not count as cooking.)
Visiting The Zoo or Amusement Park
Before school ends for the summer and the amusement parks get packed with rowdy kids, play hooky from work and visit the zoo or amusement park.
It will be a unique and memorable day and will give you a chance to test out how well he or she handles the scary rides, which can definitely reveal a lot about a person. Add ice cream to the plan, and you're guaranteed a successful date.
Drive-In Movie
There is nothing more romantic than an old-fashioned date at a drive-in movie theatre. This date idea has had a consistent success rate since our grandparents were young.
Just make sure you choose a suitable movie. Please stay away from bloody horror movies -- unless, you're both into that, of course. Top the night off with popcorn, candy and a blanket to cozy up together.
Town Fair
Carnivals always make an appearance in the springtime. Why not pay one a visit and enjoy the fun activities at local fairs?
Just because you're not in high school anymore doesn't mean you are too old to impress your girl with some prizes. I know those games always seem rigged, but it's worth a shot.
Pub Crawl
I'm not saying we're all alcoholics, but sadly, most of us only feel at ease when some drinks are added to the equation. So why not have a laid-back evening and get to know each other over some beers on a nice patio? If you want to add some college-aged excitement, plan a pub crawl.
Have one drink at each of your favorite places, and by the end of the evening, it will feel like you are already on your tenth date.
Photo Courtesy: Fanpop