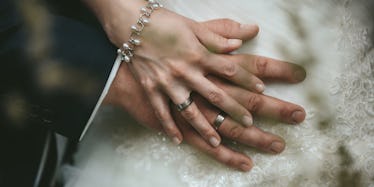 7 Brides Share Their Biggest Wedding Day Mistakes So You Won't Make Them
Leander Nardin
Let's get one thing straight: Your wedding will not be the most perfect day of your life. It might not even be the best day of your life, which is absurd because it's probably the most expensive day of your life.
Almost all weddings come with a pinky promise of occasional family drama, non-responsive vendors and too many commitments to do so many things before the clock strikes midnight and the whole shindig comes to an end and the venue rushes you out the front door.
If you're aiming to have the time of your life (which you very well deserve to have), it's important to strip your expectations and your wedding day to-do list to a bare minimum.
Wondering what you should make sure you do on your wedding day? Listen to the advice of these seven ex-brides:
1. Stuff your face.
There are two times during the day when it's most important to fill up your stomach: In the afternoon before your ceremony and right after you say 'I do.' Those are probably the only two moments you'll have to eat, so make sure you do that. I forgot to eat before my ceremony and I thought I was going to pass out the whole time. My body was shaking and I felt extra lightheaded. Make sure you eat as much as you can, even if you're nervous and feel like you can't.
— Sarah W., 28
2. Run away from it all.
Let me tell you, your wedding day will not be a ball of relaxation. It'll be chaos, drama with family, a lot of people asking you a lot of things. Before it all goes down, take some time to go for a walk alone. Get some fresh air or lock yourself in the bathroom and take some deep breaths. I like to meditate, so I took 15 minutes to do that in the hotel room closet, away from my rowdy bridesmaids. It helped me get centered and gave me a temporary escape from the wedding madness.
— Terri K., 27
3. Face plant.
Sleep will be your best friend on your wedding day. Before the ceremony and the party starts, get as much rest as you can. I had a rule that I was going to stay in bed until it was time to put my dress on. I wanted as much chill time as possible. If you're too excited to sleep, then put on a movie and just lay down until it's time for hair and makeup or photos.
— Clarissa T., 28
4. Burn some calories.
Let loose on your wedding day. After you say 'I do,' don't worry about looking prim and proper. Go wild. Let your hair down, literally. Undo the bobby pins and hike your dress up. Walk around the venue, dance on the dance floor and jump up and down. Just move around and forget that you need to look like a perfect princess all night. I was so worried about not getting my dress dirty or ruining my makeup that I sat still most of the night. But really, who cares? The only pictures I ever really look at or share with others are photos from the morning and the ceremony. After that, I wish I just got down and dirty.
— Jamie H., 26
5. Shave your legs.
My only advice is remember to shave your legs. You've probably spent so much time doing everything else for yourself and the wedding that you'll forget about that one important thing. I totally forgot about it.
— Marissa H., 25
6. Press pause.
I wish I spent more time taking in the whole day and enjoying myself. It sounds stupid and probably simple, but it's so hard to do. Everyone is pulling you in a million directions. You're so worried about the day going perfectly that you forget to actually enjoy yourself. I wish I just opened my eyes up, enjoyed every moment and told people to leave me alone when they wanted me to go somewhere or do something.
— Rachel P., 28
7. Occupy the dance floor.
Spend every free moment you have on the dance floor. That's the only place that'll make you realize how awesome you're wedding is going and the only place you'll fully enjoy yourself at the wedding. Just make sure to have fun. I only spent one song dancing the whole night, and the rest of the night I just micromanaged the wedding. Pay someone to do that. It's worth it.
— Frannie A., 29
No matter how you envision your big day to go, it won't go off without a hitch. So stay calm, get your priorities straight and make sure you take time for yourself on the morning of so you can sleep, eat and shave your legs.