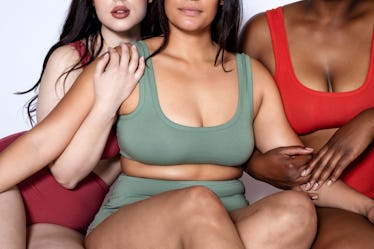 5 Women & Femmes Working To Destigmatize Sex Work On Instagram
Luis Alvarez/DigitalVision/Getty Images
Activism isn't easy — not even when you're doing it online. But an increase in legal barriers and long-held institutionalized biases aren't enough to silence the people working to de-stigmatize sex work on Instagram. The platform, which has singled itself out from the rest of the social media pack as a tool for sex workers, can be instrumental in helping them develop their businesses by allowing them — like any other business owner — to promote their goods and services, expand their client base, and build community with others in the industry. But simply having access to Instagram doesn't make their work any easier.
Speaking openly about sex work, whether that's through self-promotion or advocacy, has become more difficult in recent years due to the bills Fight Online Sex Trafficking Act (FOSTA) and Stop Enabling Sex Traffickers Act (SESTA), which passed in the Senate in March 2018. Both bills were intended to target sex trafficking, but FOSTA-SESTA caused many sex workers more harm than good by spurring social media platforms to crack down on sexual content indiscriminately.
However, research suggests that online spaces for sex workers to promote themselves have led to much safer working conditions. Making self-promotion of consensual sex work illegal forces sex workers to turn to the streets for work, making it harder to vet clients in advance. In the aftermath of the legislation, sex workers and adult industry veterans have reported a decrease in financial stability since FOSTA-SESTA's passing.
To make matters even more difficult, Instagram's December 2020 Terms of Service update, meant to adhere more closely to Facebook's Community Standards on sexual solicitation, included a ban on sexually implicit content (like suggestive emojis and allusions to wetness and erections). It also included a push to redirect users to more explicit platforms, like OnlyFans, instead of hosting that content on Instagram.
And although Instagram has publicly stated its update is not targeted at sex workers, and that "nothing will change" about the way it enforces its policies, sex workers have reported their posts have, in fact, been taken down or their accounts shadowbanned — hidden from intended audiences — or deleted entirely.
Still, sex workers are not giving up. Not only is destigmatization important for shifting cultural attitudes toward their work, but it can also pave the path to decriminalization, fostering safer working environments for strippers, cam models, full-service sex workers, and others in the adult industry.
Below, six sex workers using their Instagram platforms to destigmatize their work tell Elite Daily what they're doing to speak up for themselves and their communities, and why it's so important.