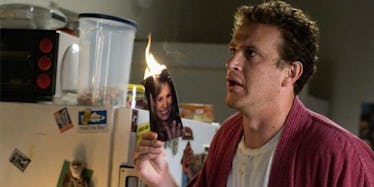 5 Smart, Unexpectedly Easy Ways To Get Over A Breakup With Minimal Trauma
Universal Pictures
So you're in the middle of a breakup.
Maybe you're in shock, or you feel relieved; you could be wallowing or enjoying your new-found freedom.
Are you rewriting the history on your relationship? Are you wondering where you went wrong? Or are you just working your way through a big box of ice cream and Gilmore Girls?
Often, we show destructive behaviors during a breakup.
It's normal; breakups are hard.
The problem is, eating or drinking your way through the pain doesn't actually help you. It doesn't bring the comfort you want (or need).
Most of the time, memory is not your friend, so you'll only remember the good times instead of understanding there were also bad times that ultimately led to the breakup.
No matter what other people say, getting over an ex is hard, so you need techniques. Ideally ones that will allow you to get over this breakup with the least possible trauma.
1. Go against the flow.
The first thing you feel in a fresh breakup is often "my life has ended."
Let's challenge that idea.
If you and your ex hadn't broken up, you would never be able to find a better partner.
So actually, in a way you should be grateful for your ex. They gave you the opportunity to live new experiences and meet new people.
One of these people may turn out to be your amazing next partner.
Which leads me onto my next point...
2. Archive your past relationship.
You can't get over a breakup if you're constantly inundated with your ex's posts on social media.
You need to break all the connections between you and your former partner, so unfriend, unfollow and forget about his or her account.
According to experts, your grieving period post-relationship will last longer if you stalk your ex online.
So don't do it.
After you've cut your online ties, collect all the things that remind you of your ex, put them in a box and hide the box in the farthest away corner of your garage.
Don't burn the box or destroy it because you might one day want to look at the things inside, or show them to your kids when they go through their own breakups.
3. Work, work and work some more.
All your grief and anger can be directed and put to use in your work.
When your mind is occupied with deadlines and tasks, you won't be thinking of your ex.
At the same time, diving into work helps you sleep better. It'll tire you out, so you won't have the energy to cry your nights out.
Another advantage of working is that your career will flourish. This will motivate you and will help you recover from the breakup. Meanwhile, you might get a promotion!
4. Spend time with your friends.
I know you don't feel like going out, but take out your best outfit, put on some makeup and go out with your friends.
Being alone makes you prone to crying and thinking of your ex, so you need to get out there and socialize.
Don't get involved with anyone else. Just socialize and have a good time.
5. Get involved in new projects.
Kick the past and embrace your new life by getting involved in a new project.
Take up dancing, learn a new language or get a pet: any of these can fill the gap left by your relationship.
At the same time, a new project provides you with a new skill, which can be useful in the future. If you choose to get a pet, you will never regret the decision, as you will never be alone again.